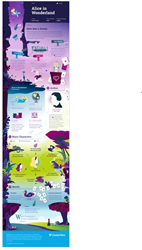 REDWOOD CITY, Calif. (PRWEB) August 24, 2016
Course Hero, an online learning platform that empowers millions of students and educators to succeed, has developed "Literature Infographics" to help students better understand great works of literature. This visually stunning learning tool includes the key critical literary works that students will need to prepare for the upcoming fall semester. Course Hero developed these unique learning materials to provide students with a visual tool to help understand the key elements of classic literary work.
The series currently includes the following titles:
Alice in Wonderland by Lewis Carroll
Macbeth by William Shakespeare
Pride and Prejudice by Jane Austen
The Great Gatsby by F. Scott Fitzgerald
To Kill a Mockingbird by Harper Lee
The Literature Infographics, which currently contain more than 90 titles, are a unique way for students to learn about the characters, themes, authors, and literary devices contained in the works many students will be reading this year.
"As an educator, I see these infographics as a fun, visual way to immediately immerse students in the essential ideas, concepts and literary devices that can facilitate their understanding and appreciation of literature," said Kathi Duffel who has been a teacher for over 30 years and is an AP English and Journalism Advisor at Bear Creek High School (California). Kathi is also the recipient of the 2015 James Madison Freedom of Information Award by the Northern California Society of Professional Journalists.
"We believe our Literature Infographics will help students better understand the complex ideas behind some of these great works of literature by providing a visual, story-driven perspective to the content they are related to ," said Course Hero Co-founder and CEO Andrew Grauer. "It's also our hope that educators will find these materials rich, engaging and helpful in addition to the lectures, class notes and other materials that they painstakingly prepare for students in the classroom."
The Course Hero Literature Infographics are free for students and educators to browse, download, and share with classmates, friends, and colleagues and can be found here.
About Course Hero | Master Your Classes™
Course Hero is an online learning platform that empowers millions of students and educators to succeed. Fueled by a passionate community of students and educators who share their course-specific knowledge and educational resources, Course Hero offers the biggest and best library of study documents, expert tutors, customizable flashcards, and course advice. Course Hero is now used by over 10 million students to supplement their class work with course-specific study materials.
For more information, contact:
Haley Hartwick
Grayling for Course Hero
(415) 593-1400
coursehero(at)grayling(dot)com