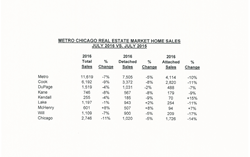 "The inventory of homes for sale at the end of July was 9.5 percent lower than a year ago, but it's not the case that all segments of the market are short on listings."
CHICAGO (PRWEB) August 25, 2016
A relatively skimpy inventory of homes for sale in July, especially in the attached-home segment of the seven-county metropolitan Chicago real estate market, contributed to mixed results, according to an analysis by RE/MAX. The average time required for a home sold in July to find a buyer fell to just 73 days, the lowest figure for that month since 2005 at the height of the housing boom.
Not surprisingly, faster sales also meant higher prices, with the median sales price for July in the metro area coming in at $240,000, 5 percent higher than in July of last year. However, the number of homes sold in July was 11,619, down 7 percent from the July 2015 total.
"The inventory of homes for sale at the end of July was 9.5 percent lower than a year ago, but it's not the case that all segments of the market are short of listings," said Jack Kreider, executive vice president and regional director of RE/MAX Northern Illinois. "For example, there's a fairly ample inventory of luxury homes available, but more moderately priced homes in good condition are scarce in some communities."
Although Cook County was the source of 53 percent of all July sales in the metro area, it accounted for 77 percent of the sales decline.
"In our view, much of that fall off in sales activity relates to the attached-home inventory, which was down 12 percent from July of last year, and that had a big impact in Chicago," said Kreider. "We're seeing relatively little new condo construction as developers focus on rental buildings."
On the flip side, the lack of inventory has encouraged buyers to move more quickly. Average market time was 80 days or less in all seven metro counties and just 66 days in Chicago.
The median sales price increased in six of the seven counties and in Chicago. The median rose 12 percent in Will, 10 percent in DuPage and Kendall, 5 percent in Cook, 4 percent in Kane and 3 percent in McHenry. Lake County registered a 2 percent reduction, while Chicago gained 2 percent.
Only McHenry County experienced an increase in sales activity compared to July 2015, with sales up 8 percent. In addition to the 9 percent decline in Cook, sale totals dipped 8 percent in Kane, 7 percent in Will, 4 percent in DuPage and Kendall, 1 percent in Lake and 11 percent in Chicago.
The distressed properties, consisting of foreclosures and short sales, continued to shrink as a percentage of total housing sales. In July, distressed sales represented 11.5 percent of total sales, down from 16.2 percent a year earlier.
Detached Homes
Sales of detached homes in the metro area were down 5 percent in July from the year-earlier total to 7,505 units, while the median sales price gained 6 percent to $258,000 and average market time fell to 79 days.
Sales activity increased in two counties, gaining 8 percent in McHenry and 2 percent in Lake, but fell elsewhere. July sales of detached homes were down 9 percent in Kendall, 8 percent in Cook, 7 percent in Kane, 5 percent in Will, 2 percent in DuPage. In Chicago, detached sales dipped 5 percent.
Led by a 16 percent increase in Kane, the median sales price rose in five counties and was essentially unchanged in McHenry. The gains were 9 percent in Will and Kendall, 6 percent in Cook and DuPage. The median price fell 4 percent in Lake; in Chicago it rose 5 percent.
Attached Homes
Attached-home sales fell 10 percent compared to July of last year, and the average market time shortened to 61 days, the lowest monthly market time for attached homes since RE/MAX began tracking that data in 2005. In Kendall County, the average market time for July was just 37 days.
Attached sales rose in two counties, gaining 15 percent in Kendall and 7 percent in McHenry. Sales fell 17 percent in Will, 11 percent in Cook and Lake, 9 percent in Kane and 7 percent in DuPage. Chicago had a 14 percent sales decline.
The median price of an attached home sold in July was $197,750, up 3 percent from the same month last year. The median price rose in six counties and was unchanged in Lake. Gainers were: Kendall up 10 percent, Will up 9 percent, Kane up 7 percent, McHenry up 5 percent, DuPage up 3 percent and Cook up 2 percent, while Chicago gained 4 percent.
RE/MAX agents consistently rank among the most productive in the industry. In 2015, RE/MAX Northern Illinois agents averaged 18 transaction sides. RE/MAX has been the leader in the northern Illinois real estate market since 1989 and is continually growing. The RE/MAX Northern Illinois network, with headquarters in Elgin, Ill., consists of more than 2,300 sales associates and 106 independently owned and operated RE/MAX offices that provide a full range of residential and commercial brokerage services. Its mobile real estate app, available for download at http://www.illinoisproperty.com, provides comprehensive information about residential and commercial property for sale in the region. The northern Illinois network is part of RE/MAX, a global real estate organization with 104,000+ sales associates in 90+ nations.
####
EDITOR'S NOTE: RE/MAX® is a registered trademark. Please spell in all caps. Thank you. This release is posted at blog.illinoisproperty.com.