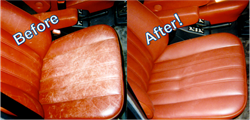 I think it's great that we can save people money, while helping the environment through reusing and recycling surfaces instead of just trashing them with each project we tackle at Creative Colors International - Patrick German
Clearwater, FL (PRWEB) August 26, 2016
Creative Colors International, the nation's leading on-site repair and restoration franchise, launched its newest location on August 10, 2016 in Clearwater, FL. This is big news as more local business owners and cost-conscious residents than ever before are seeking out alternatives to astronomical upholstering charges and replacement fees associated with damaged possessions composed of leather, vinyl, plastic and fabric.
Patrick German, the man responsible for bringing Creative Colors International to Clearwater, says he was looking for a franchise that would allow him to work with his family members. With that priority in mind, Patrick's franchise broker led him to Creative Colors International – a family-based franchise system that has been owned and operated by the same family since its inception – and Patrick was immediately hooked. "I wanted something with low capital requirements where I could quickly hire my step son and son-in-law," said Patrick. "With my IT background, this repair and restoration business model is never something I would have thought of without the help of a franchise broker, but I've been thoroughly impressed at each step and we're thrilled to get started."
So, after 18 years in financial IT, Patrick is opening a Creative Colors International (CCI) location right here in Clearwater, FL. He is excited to start what he calls "the second half" of his career. He's confident Creative Colors International will thrive in Clearwater because the company's revolutionary products and restoration techniques will help local customers save up to 90% on replacement fees by repairing worn and/or damaged materials. "I think it's great that we can save people money, while helping the environment through reusing and recycling surfaces instead of just trashing them."
The statistics suggest that repairing and restoring, as opposed to upholstering and replacing, can save local business owners and residents hundreds of dollars on any damaged item. For example, the costs associated with upholstering any type of seat can be very steep, ranging anywhere from $120 to $450 per cushion. And according to Terri Sniegolski, Creative Colors International's CEO, the commitment shared by all franchisees to help customers save money, and deliver on the company's "We Can Fix That" philosophy, has been the key catalyst for the company's expansion to 54 locations in 24 states with 125+ mobile units since its initial inception in 1980.
"We're excited to open our next Creative Colors location in Clearwater because we know Patrick and his sons share the same 'We Can Fix That' attitude our other successful franchisees possess," said Sniegolski. "We are thrilled about our expansion in Florida because we know the local business owners and customers in the community will be eager to repair and restore their possessions at a fraction of the cost."
Serving the automotive, commercial and furniture industries, Creative Colors International offers affordable solutions for tears, holes, scuffs, scratches and other types of damage found on leather, vinyl, plastic or fabric through on-site repair, restoration, cleaning, dyeing and protection. For local residents, this means Creative Colors International can repair auto interiors, leather furniture, RV flooring, and boat vinyl, among other things. Additionally, for business owners, Creative Colors International can repair any upholstery found in critical locations around the company, such as waiting rooms, examination rooms, restaurant booths, hotel rooms, and theater seating, among others.
For more information on Patrick and his Creative Colors International location, please visit http://www.wecanfixthat.com/clearwater/.
About Creative Colors International
Launched in 1991, the Creative Colors International (CCI) franchise system was created through its affiliate, J&J's Creative Colors, the original industry leader in refurbishment techniques and systems. Today, both companies continue to be family-owned and operated by the second generation. Catering to the abundance of upholstered items in every home, business and vehicle, CCI is the ultimate in on-site repair, restoration, cleaning, protection, and dyeing of leather, vinyl, plastic and fabric. Through proprietary technology, CCI restores damaged material at a fraction of replacement costs, saving customers up to 90 percent. CCI repairs are stronger than the original area and are nearly invisible to the naked eye. In the Automotive, Furniture and Commercial Markets, CCI offers on-site repair and restoration to all types of leather, vinyl, fabric, plastic and carpeting by repairing and redyeing holes, cuts, tears, burns, scrapes, fading and discoloration. For more information on CCI's services and franchise opportunities, visit http://www.wecanfixthat.com.