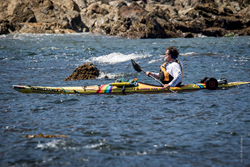 I believe the term 'Chicken Of The Sea' is a death penalty to these fish.
Los Angeles, CA (PRWEB) August 25, 2016
Andrew G. Szabo is no stranger to adventure or long distance challenges. In the past 12 years he crossed the Sahara 15 times as director of the legendary, 6000 mile Budapest-Bamako Rally. This September he sets out on a long distance, solo kayak trip from Manhattan Beach to Tijuana.
"First it was just a mid-life crisis related personal challenge, then it turned into something bigger and more meaningful," said the 47 year old internet and real estate entrepreneur. "Unethical tuna fishing is not only pushing certain species of tuna to the verge of extinction, but is destroying various ocean eco-systems," added the amateur sea kayaker.
Szabo began training in early May after dropping the idea of walking the coast line to Mexico. After teaming up with Greenpeace's #ChangeYourTuna campaign, Szabo was amazed how little we know about the tuna fish we eat and how much damage we can cause to our oceans by choosing the wrong brand. "I believe the term 'Chicken Of The Sea' is a death penalty to these fish. They are not farm animals. They can only be fished in a sustainable fashion," added the kayaker. On his website ArcoirisExplorer.org he even lists the ocean friendly brands of tuna that are approved by environmentalists.
"I'm excited about being involved with a charity where we don't have to ask our friends and family for donations. Here, everybody can do their part by changing their tuna," added the enthusiastic kayaker.
The 11 day, 150 mile expedition along the Souther California coastline will set out from Manhattan Beach on September 4th, 2016 and is expected to end atTijuana's Plaza Monumental on September 15th. On his websites Szabo encourages all those who care about our oceans to join him by kayaks, canoes, SUPs, surf boards for any length of the trip.
The planned route of the expedition and where you can join:
Sep 4- Manhattan Beach to Portuguese Bend
Sep 5- Portuguese Bend to Seal Beach
Sep 6- Seal Beach- Newport Beach
Sep 7- Newport Beach – Laguna Beach
Sep 8- Laguna Beach- San Celmente
Sep 9- San Celmente- San Onofre
Sept 10- San Onofre- Oceanside
Sept 11- Oceanside-Batiquitos Lagoon
Sept 12- Batiquitos Lagoon- Torrey Pines Beach
Sep 13- Torrey Pines Beach- Bonita Cove
Sep 14- Bonita Cove-San Diego
Sept 15- San Diego - Tijuana
For additional information and dates visit: ArcoirisExplorer.org