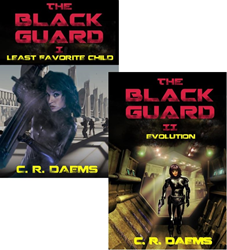 "I've fallen in love with this author's work. Daems writes about powerful women within a military setting in these two books. He portrays rich friendships, strength of character, honor, and more." - Linda the Librarian, Amazon
(PRWEB) August 25, 2016
In the first book, "The Least Favorite Child," Rivka is just that – and a girl. So it is no surprise that her father selects her, at age six, to comply with the country's conscription law. Sent away to the military to be raised and trained, the child is told at orientation:
"We have rules and you must obey them. Your instructors are not being cruel when they enforce the rules. Our schools are demanding and will require your best effort. Those who work hard and obey the rules will be rewarded."
And those that don't? I wondered. I noticed she didn't say they would be sent home. Not that it mattered. Even if they let me leave, where would I go? My parents' house was no longer my home. I no longer had a home.
Alone and filled with doubt, Rivka struggles to keep going. Only when she adopts a new friend's dream of becoming part of the elite Black Guard does she find a reason to live.
Few make it into the Black Guard, but Rivka is determined. Yet when she succeeds and is sent on her first mission, to protect a ruling family during a revolution, she discovers that the Guard may not be as perfect as she believed. Thus Rivka begins a journey that will change her and the Black Guard forever.
Watch the video at: https://youtu.be/h-S9pUabj6U
"The book describes the early career of Rivka, a girl growing up on a poor planet well-known for its mercenary forces. The first part of the book is the coming-of-age story, from being an unwanted child to a very hard military school providing a badly needed sense of belonging, to a young, promising officer. The second part is a series of engagements of Rivka and forces under her command. The structure is quite reminiscent of Daems's Kazak Guardian books, but I enjoyed this more, primarily because of Rivka's role as an officer and a leader, and her willingness to engage in politics and influence larger sources of conflict." – David Brukman, Amazon reviewer
"I REALLY enjoyed this book … A blast to read, got into the action pretty fast and stayed there. Even had me trying to figure out how the next assignment was going to go. As a military man, it was interesting to see how the main characters take on Tradition vs. Duty and how it played out during assignments. Looking for the next one." – L. R. Hefner, Amazon
In the second book of the series, "Evolution," Rivka discusses a point of honor with several officers:
"Knowing that the rebels' overwhelming force would eventually wipe out his detail and kill their client, Captain Embry decided their only chance was deception. But for some reason we may never know, he didn't have time to discuss it with his troops and had to act quickly. Possibly an opportunity suddenly presented itself, or he detected an imminent attack. Regardless, he maneuvered into a position to get captured, endured two days of brutal torture to ensure the rebels would believe him when he finally cracked, and gave them false positions that would give his detail the best advantage if acted on by the rebels."
Dragon Sapir is back, and the Jax Military will never be the same.
The Jax Contract Committee has released Rivka to take assignments, and the first involves her in a plot by several systems within the Helix collection of systems to destroy the Jax. As the plot spreads, she is given assignments to combat the threat. Soon she becomes the JCC's problem solver for ill-advised and potentially ruinous contracts the JCC is forced to accept, including one by the United Freelands, which is seeking revenge on her for their embarrassing defeat on Suryah.
Rivka has become the agent of change, an essential evolution if the Jax is to survive.
"An excellent book to follow up the first one. Hopefully there will be another to continue the story. I think that this book ranks up with the author's Riss series …This author is one of the better Space Opera writers and this book does not disappoint." – Timothy Richley, Amazon
"As usual C. R. Daems's books are wonderful. A pleasure to read because they are difficult to figure out beforehand. This is a wonderful read for all ages. Certainly hope there will be more of these books coming." – Twopony, Amazon
"Great read! You'll want to read the first book in this series too – 'The Black Guard: Book I: Least Favorite Child' (Black Guard Series 1). I've fallen in love with this author's work. Daems writes about powerful women within a military setting in these two books. He portrays rich friendships, strength of character, honor, and more. Thoroughly enjoyed these stories! I wish there was a third forthcoming." – Linda the Librarian, Amazon
About the Author: C. R. Daems is a native of Chicago and a graduate of the University of Arizona. After spending 22 years in the U.S. Air Force, he worked as a software engineer, course developer, and an adjunct professor teaching math and computer science. An avid reader of science fiction and fantasy, he began writing after he retired. His book "Talon of the Unnamed Goddess" was an EPPIE finalist in fiction/fantasy. He is a member of the Science Fiction & Fantasy Writers of America (SFWA) with more than 20 published books.
Author website: http://www.crdaems.com
The compelling books THE BLACK GUARD I: LEAST FAVORITE CHILD (ISBN: 978-1-49755-868-7) and THE BLACK GUARD II: EVOLUTION (ISBN: 978-1-51942-465-5) are now available for $12.95 each and can be ordered at Amazon and other online sellers.