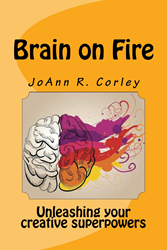 Atlanta, GA (PRWEB) August 25, 2016
JoAnn Corley, founder and CEO of The Human Sphere, and dynamic speaker, business coach, and author of the book "Brain on Fire: Unleashing Your Creative Superpowers", will be taking the stage at the 74th Annual IdeasAmerica Training Summit on September 14, 2016 to lead attendees in gaining new skills in creative and innovative thinking.
"In a recent survey done by IBM Leadership Institute, 1,000 CEOs surveyed stated creative thinking their most important attribute in an employee," said Corley. "I am looking forward to connecting with IdeasAmerica's diverse audience and sharing solutions for attendees to utilize in their organizations immediately. I believe creative thinking is an essential element to continued growth and success of all economies."
The session, "Creative & Innovative Thinking – The Next New Skill", will help attendees connect with their creativity and unique contributions within to help their organization. Corley will share ways to remove limits and create an ideation process that anyone can use to access their creativity in order to continuously generate ideas, cultivate innovation, and improve processes and decision-making.
"We are looking forward to JoAnn Corley sharing her unique strategies and experiences with attendees," said Paula Davis, Executive Director of IdeasAmerica. "It's an opportunity for our attendees to learn valuable, real-life skills that impact not only their professional lives but their personal lives as well."
IdeasAmerica Training Summit will be held September 13-15, 2016, at Atlanta Marriott Suites Midtown in Atlanta, GA. Registration varies from $985.00 for members and $1,300 for non-members.
Register online at http://www.ideas-america.org.
About IdeasAmerica
IdeasAmerica is an internationally recognized organization serving professional managers and administrators of employee ideas, involvement and innovation systems for over 70 years by providing quality educational programs, publications, benchmarking and networking opportunities. Members are leaders who are dedicated to building organizations that engage their employees, encouraging them to contribute to their organizations at many levels and in many ways. The 74th Annual IdeasAmerica Training Summit is scheduled for September 13-15, 2016 in Atlanta, GA. To learn more, visit http://www.ideas-america.org.
About JoAnn Corley
JoAnn Corley is a passionate champion of human potential with a focus on leadership and organizational success. She has the crazy belief that we can create our best leaders and businesses from the best of our human selves and that creativity is a portal by which to discover and unleash that potential. She is author of several books including Brain on Fire: Unleashing Your Creative Superpowers. She has been consistently recognized as one of the top 100 most social HR & management experts to follow on social media at @joanncorley.