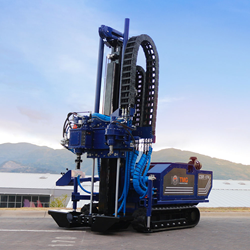 Our focus in this is to get these folks back in their home... there are so many residents in Rowlett still displaced
Rowlett, Texas (PRWEB) August 24, 2016
Doing its part to help the area community, Fortress Foundation Systems of Rockwall, in conjunction with TMG Manufacturing of Tampa, Florida and 2000 Industries of Carrollton, today announced it would be donating $15,000 in services to the Wright family of Rowlett. Work is scheduled to begin on Thursday, August 25th.
The repairs will utilize the new CSR­174 cutting edge drilling machine built by TMG Manufacturing. "This incredible drill rig is designed to achieve maximum torque and depth for helical pier applications. The rig is unique in that it is extremely efficient and utilizes a proprietary 4 speed gearbox that allows for accurate control of both speed and torque," said Cathy Hood, Texas Area Rep for TMG Manufacturing. 2000 Industries is the first rig dealer of TMG materials and rigs in the DFW Metroplex.
The Wright family was one of hundreds of Rowlett Residents that lost their homes to the deadly Tornado on December 26th 2015. Remarkably many homes remain in disrepair in the damage area and some families have run out of options. The pain of tornado damage is enough, but many homeowners in the area have to deal with the additional struggle of insurance issues and bad contractors. Cathy Hood had seen enough.
"Our focus in this is to get these folks back in their home... there are so many residents in Rowlett still displaced," said Hood. "We have been blessed enough over the last few years that it's only right that we pass those blessings along. 'Paying it forward' sounds so cliché but to hoard what we have been given isn't what we are about. Our motto at Fortress is 'honesty, integrity, affordability' even if that affordability means helping someone out who is down on their luck."
With work scheduled to begin on Thursday August 25th, Fortress Foundation Systems and their local partner 2000 Industries are eager to begin and use this one of a kind machinery to get the ball rolling. "We can't have a homeowner rebuilding on a slab we suspect is unstable. We wouldn't want our family living that way, nor would we want that for someone living right here in our own community," said Hood. This particular area of Rowlett has some of the most expansive clays in the Dallas Fort Worth area. Methods of stabilization should be closely scrutinized by geotechnical and/or structural engineers with experience in similar cases. For more information regarding Fortress Foundation Systems, please visit http://fortressfoundationsystems.com/
About Fortress Foundation Systems
Fortress Foundation Systems is based in Rockwall Texas. From the initial consultation to the completion of the job, the owner is hands on. They pride themselves on outstanding customer service, quality control, and above all, communication. Customers are never treated as numbers. The owner's background includes sinkhole repair as well as varied types of foundation remediation. Taking a professional approach with customers is the top priority. Notably, FFS has nearly impeccable ratings across review sites. For more information regarding Fortress Foundation Systems, please visit http://fortressfoundationsystems.com/
About the TMG Manufacturing CSR­174 Rig
TMG manufactures the first ever purpose-built combination SPT, CPT and Wireline Rotary Core Test Drill Rig. Having the versatility to auger drill, rotary/mud drill, wireline rotary core drill, SPT hammer test and full-function CPT test in ONE compact track mounted drill rig, is a first in the industry. Engineers can now invest in one machine to test soils using SPT or CPT and core sampling technologies. The cost savings is tremendous.
About TMG Manufacturing
Founded in 2003, TMG Manufacturing strives to be the supplier you can count on for quality geotechnical products, drill rigs, tooling and equipment. TMG's main facility is located in Tampa, Florida just north of Tampa International Airport and we are a nationwide service provider. Our 20,000 square foot facility is equipped and tailored to manufacture and fabricate a multitude of quality products specifically designed for the geotechnical industry, including compaction grouting drill rigs, SPT and CPT soil testing drill rigs, compaction grouting equipment and products, underpinning equipment and products, drill rods, drill casings, drill bits, augers, as well as tooling used in the installation process. TMG has been the leading fabricator and manufacturer of sinkhole remediation contractors in Florida for over a decade. Their unique approach to fabrication has resulted in ongoing relationships with the leading geotechnical and structural engineers charged with choosing the proper materials in situations that can actually endanger the safety of families. Get more information at http://tmgmfg.com
About 2000 Industries
2000 Industries of Carrollton is the only authorized dealer of TMG, MFG Products. JD Grommesh, CEO at 2000 did not hesitate when approached with the opportunity to provide support for this project in conjunction with TMG and Fortress Foundation Systems, a longtime customer. 2000 Industries has been the go to source of the highest quality materials for foundation repair companies and their customers for 24 years. The union of TMG and 2000 is a melding of two highly respected companies in the field of foundation products and solutions. Get more information at http://www.2000industries.com/
###
All trademarks and product names are the property of their respective companies.