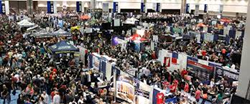 (PRWEB) August 25, 2016
The Fit Expo Anaheim returns for its second annual show on August 27th and 28th at the Anaheim Convention Center. It is a is a large Southern California event that exhibits fitness related talents and trades of all kinds.
Some of the exhibits that make the Fit Expo unique are the fitness, physique, martial arts, and strength contests. Also included are bodybuilding, physique, figure and bikini competitions, Jiu Jitsu, powerlifting, strongman, arm wrestling, jump rope, Olympic weightlifting contests and a functional fitness competition. Not only are there contests however, the event also features calisthenics, parkour and loopkicks demonstrations.
Furthermore, the event will highlight fitness fashion shows, a group exercise program with classes and top instructors, celebrity athlete appearances as well as the popular "Healthy Living Pavilion" featuring cooking demonstrations, as well as recipe makeovers and plenty of sampling. Aside from these things, the Fit Expo also exhibits fitness-related products and commodities of all sorts. Here, both both start-up and established companies have the opportunity to meet and network with thousands of influential consumers who attend the Fit Expo.
One product to be featured at the Anaheim event is MitoXCell, a local product based out of Southern California. It is an all natural raw cacao based dietary supplement that aids in both daily nutrition as well as post workout recovery. The product is a five ingredient powder consisting of raw cacao, echinacea, carnitine, trans resveratrol and alpha lipoic acid. Each ingredient stimulates the body with natural energy and antioxidants that aid in fitness and recovery.
The Fit Expo provides great opportunity for not only those interested in fitness and athletics, but also the companies who support them and their lifestyles.
The Expo will be held August 27 and 28th at the Anaheim Convention Center. For more information, visit thefitexpo.com.
Superfood blend MitoXCell can be found at Booth 678 in Hall D of the Expo. For more information about MitoXCell, visit http://www.mitoxcell.com.