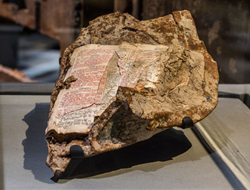 Religion and forgiveness are both 'dangerous medicines'. Too little can harm. Too much can kill.
Buffalo, New York (PRWEB) August 25, 2016
Like The DaVinci Code, the story travels around the world to speculate on the mystery of this Bible, now on display at the September 11th Memorial Museum. Did it belong to Donna, an ex-minister who was banished from her church on September 10th for following the Golden Rule instead of church rules?
The search for answers takes this historical novel to 1968 in the Bahamas, where Martin Luther King visited shortly before his murder. Two college girls on spring break are shocked by Dr. King's death and a warning: "Religion and forgiveness are dangerous medicines. Too little can harm. Too much can kill." They turn to folk music, plus insights from psychology and spirituality, to address issues that are still important today: prejudice, war, same-sex marriage and income inequality.
Meanwhile, a graduate student on a pilgrimage to Israel flees the holiest part of the land, then is stunned by a revelation at a sidewalk café in Tel Aviv. Returning to Buffalo, the three meet, form a folk-music trio, and begin a lifelong journey to find more love that climaxes at the Twin Towers.
It is written by Dr. Tom DeLoughry whose programs and stories have been honored with national awards, including AARP's Social Impact Award for creating "a simple mind-body-spirit program for seniors, adults and teens of any faith, or no faith." Advance sales of the novel are available until September 30th at http://www.LHHnovel.com.
A free online magazine, "From Hate to Hope", edited by Dr. DeLoughry, will launch concurrently with the novel this fall. It will provide in-depth articles that build on the well-researched insights from psychology and spirituality that are infused in the story.. Readers will be invited to create more paths from hate to hope by sharing their stories and suggestions through the magazine's social media platform
"Religion and forgiveness can heal hate," says Dr. DeLoughry, but they are both 'dangerous medicines.' Too little can harm. Too much can kill.
"Religion helps when it teaches the Golden Rule," he continues, "a code of compassion held in common by people of all major faiths. Religion harms, and sometimes kills, when it judges and condemns.
"Forgiveness heals by curing 'stress blindness,' a tendency to see the negative when we are angry or afraid. Forgiveness harms when acceptance isn't balanced by assertiveness, justice or strength.
"I wrote the novel because I wanted to explore how my characters and I can forgive ourselves, others and God.
"I also wrote 'Love, Hate and Hope' because, as the 15th anniversary of 9/11 approaches, I believe our country is in greater danger from the fear of terrorism than we are from terrorism itself. 'Stress blindness' has impaired our decision making, causing us to focus too exclusively on the terror threat. For example, as my characters learn, the tragedy and horror of 4,000 American deaths from terrorism over the past 12 years is dwarfed by the 400,000 deaths from gun violence and three million deaths from medical errors during the same time period."
For additional background information about the 9/11 Bible and the Golden Rule as a code of compassion taught by Christianity, Judaism, Islam and other faiths, journalists and bloggers can visit http://www.LoveHateAndHope.info