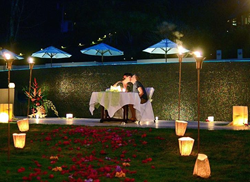 Let's do something special and get go away to a jungle paradise together
San Ignacio, Belize (PRWEB) August 25, 2016
A recent article in a popular destination wedding and honeymoon site that highlighted Belize and The Lodge at Chaa Creek as attractive honeymoon destinations is a timely reminder that, during September and October 2016, honeymooners can enjoy a romantic Belizean rainforest idyll for less than most domestic getaways, according to Chaa Creek's wedding planner.
Denise Duran said that the discounts are the most recent in a series of end-of-summer romantic vacations the Belizean eco-resort offers each year, and allows for affordable, spur of the moment romantic vacations that blend luxury with a pristine tropical rainforest setting.
"Because it's not yet high season, September and October are quiet, laid back months with wonderful weather and an uncrowded, more intimate feel that's perfect for romantic getaways. Each year we try to do something different. For example, last year we designated September as Weddings and Honeymoon Month, and this year we're offering a special rate that makes honeymoon, second honeymoons and romantic holidays more attractive then ever," she said.
Ms Duran explained that during September and October 2016, honeymooners can take advantage of special discounts that offer stays at one of Belize's premier eco-resorts for under a hundred dollars (USD) per person a day.
"When you consider that this includes our eco-luxe accommodation, a full breakfast, guided tours of some of our most popular attractions, as well as romantic canoe paddles down the Macal River, you can understand why it's so attractive for newlyweds and couples.
"It's a peaceful time of year that makes strolling through tropical gardens, swimming and lounging around the infinity pool, or just relaxing on your own private veranda so enjoyable. With our special autumn rates, and given Belize's proximity to the North America, the ever increasing number of flights and competitive airline rates, doing something so special with each other has become as affordable as many vacations and even weekend getaways at home," Ms Duran said.
An August 18 2016 article by Susan Southerland titled "Where In The World Should You Go On Your Honeymoon?" on the online "Perfect Wedding Guide" said "From its mythical ancient Mayan ruins to its rich marine life, Belize is an increasingly popular honeymoon destination" and featured Chaa Creek as "among the most highly rated resorts," for honeymooners.
Situated within a 400-acre private nature reserve, The Lodge at Chaa Creek is one of Belize's oldest and most established eco-resorts, known worldwide for its signature thatch-roofed cottage style lodgings and an onsite restaurant that is regarded as one of Belize's best. Amenities include an infinity pool, internationally recognised Hilltop Spa, Belize Natural History museum and butterfly breeding area, as well as miles of well maintained trails for horseback and mountain bike riding, guided and self guided nature walks, birding and more.
Couple's massages, jungle safaris, sunset river excursions and special candlelit dinners for two can also be arranged, Ms Duran said.
"But some days, couples are content to just enjoy a leisurely breakfast, have a swim, maybe relax by the pool for a bit and head back to the comfort of their beautifully appointed, individually decorated lodgings.
"That's one of the attractions of the quiet autumn months; couples can do as much or as little as they like. We also have a dedicated team of 'adventure romance' specialists on hand to work with our guests to help couples plan the perfect holiday," she said.
"As it gets colder up north, there's much to be said for enjoying temperatures that average between 81°F (27°C) to 79° (26°C) during those months, and being able to swim during the day and be comfortable at night.
"It's pretty much a perfect time to suddenly say, "Let's do something special and get go away to a jungle paradise together," and we like to think these discounts make it possible for more and more couples to do just that," Ms Duran said.
More information about Chaa Creek's romantic adventures,destination weddings and honeymoons, and September/October discounts can be found by contacting Chaa Creek directly of through travel agents, Ms Duran added.
The Lodge at Chaa Creek is a multi award winning eco resort set within a 365-acre private nature reserve along the banks of the Macal River in Belize.
ENDS