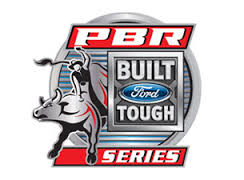 Springfield, MO (PRWEB) August 24, 2016
The PBR's (Professional Bull Riders) Built Ford Tough Series (BFTS) will return to Springfield, Missouri, on Sept. 9-11 for the eighth consecutive year with the PFIWestern.com Invitational, presented by Bass Pro Shops and brought to fans locally by Sonic. Springfield is one of the most popular stops on tour.
Missouri State University's JQH Arena will host the world's top 35 bull riders for three days of non-stop, nail-biting, edge-of-the-seat excitement. The toughest men on dirt go up against the rankest bulls in vying for their piece of the $140,000 payout.
The competition begins at 8 p.m. on Friday, Sept. 9; 7 p.m. on Saturday, Sept. 10; and 4:50 p.m. on Sunday, Sept. 11. Tickets for the three-day event can be purchased at JQH Arena Box Office, PFI Western Store, Missouri State Tix or by calling (417) 836-7678 or PFI Western Store at (417) 889-2668. Prices range from $15 to $110.
The riders will face one bull each in Round 1 through 3. Immediately following Round 3 on Sunday, the riders' individual scores will be totaled and the Top 15 will advance to the Built Ford Tough Championship Round for one more ride and a chance at the $30,000 event title.
To celebrate eight years of 8 seconds in Springfield, Sonic Drive-In is offering an affordable family ticket package fans won't want to miss. Come out of the drive-in and into the arena with the new Sonic Family Four Pack for the PBR.
Four tickets to the PBR on Friday, September 9th plus $40 in gift cards will cost just $99. Not only will you receive four tickets to watch the toughest sport on dirt, but it also includes a $20 My SONIC card, a $10 PFI Western Store gift card and a $10 Bass Pro gift card.
Stop by or call PFI Western Store at (417) 889-2668 to purchase your Sonic Family Four Pack and enjoy all the PBR action for Friday night at JQH Arena in Springfield, Missouri.
This promotion is for a limited time only, while supplies last. For more details go to PFIWestern.com/sonic-family-4-pack.
*********
The PFIWestern.com Invitational is the 19th stop on the 2016 BFTS schedule. The season will conclude at the PBR Built Ford Tough World Finals in Las Vegas on Nov. 2-6 at Las Vegas's new T-Mobile Arena where the 2016 PBR World Champion, the bull rider who earns the most points during the 2016 season, will be crowned and receive the coveted World Championship belt buckle and a $1 million bonus.
The BFTS is televised every week on CBS, CBS Sports Network and networks around the world. Television viewership for PBR on CBS is up 20 percent this season compared to last year at this time, according to Nielsen. BFTS telecasts are produced for the PBR under a multi-year agreement with David Neal Productions, a Los Angeles-based production company led by 34-time Emmy® Award winner and Peabody Award winner David Neal, who serves as executive producer.
About the PBR (Professional Bull Riders)
The world's premier bull riding organization began as a dream of 20 bull riders 23 years ago and is now a global sports phenomenon. On its elite Built Ford Tough Series, the PBR features the Top 35 bull riders in the world and the top bulls in the business. The televised Built Ford Tough Series, the BlueDEF Tour, the Touring Pro Division and the PBR's international circuits in Australia, Brazil, Canada and Mexico have paid more than $150 million in earnings to its athletes. Twenty-eight men have earned more than $1 million, including two-time PBR World Champion J.B. Mauney who, with his 2015 PBR World Championship, became bull riding's first $6 million man and the richest athlete in Western sports history at $6.7 million in career earnings. In May 2015, PBR was acquired by WME | IMG, the global leader in entertainment, sports and fashion. For more information on the PBR, go to PBR.com, or follow on Facebook at Facebook.com/PBR, Twitter at Twitter.com/PBR, and YouTube at YouTube.com/PBR.