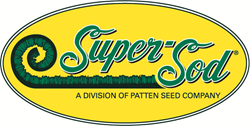 Because we produce our own sod, we are able to control quality and consistently provide a great product.
ATLANTA, Ga. (PRWEB) August 31, 2016
During the first week of August 2016, Super-Sod broke ground on a new, energy-efficient store that will serve the northeast Atlanta area. Based in Alpharetta at the corner of McFarland Road and Herring Parkway, this building will supply sod and organic compost produced at Super-Sod's Georgia farms.
With existing stores in Cartersville, Forest Park, Lawrenceville and Marietta, Super-Sod saw an opportunity to reach a missed sector of the Atlanta market by opening a location in Alpharetta. The store will be a convenient location for customers in Chestatee, Cumming, Dawsonville, Johns Creek, Roswell and surrounding areas.
"We're excited to bring sod straight from the farm to our customers in this area," said Tate Reddick, Super-Sod's vice president of real estate acquisitions. "It's a great location to serve this customer base with our sod and Soil3 organic compost for lawns and gardens."
Scheduled to open by December 2016, the store will focus on making an impact in the local sod market but will keep the business's carbon footprint minimal. The building will follow strict green building standards for water and energy conservation and sustainability.
The location will feature turfgrass plots for customers to view and experience each of the nine varieties of sod offered for delivery or pick-up at the Super-Sod store. A Drivable Grass parking area will exhibit the environmental benefits of a flexible, permeable pavement system.
Beyond sod, the store will cater to a variety of home and garden needs, including natural stone, mulch, pine straw and lawn care products. Super-Sod will also supply the exclusive products Drivable Grass and Soil3 organic compost. Soil3, sold in a BigYellowBag, is an OMRI-listed humus compost created at Super-Sod's farm in Fort Valley, Georgia.
"Because we produce our own sod, we are able to control quality and consistently provide a great product," said Mike Darsey, Atlanta area manager. "That's what sets Super-Sod apart from those brokering sod from farms they have no control over."
Super-Sod, a subsidiary of Patten Seed Company, is a family run business that employs experts in turf and horticulture. Patten Seed Company began in 1893 in Lakeland, Georgia, as a general store, providing seed for customers. Since then, Patten Seed Company has brought innovation to the turfgrass industry through production of different seed and sod varieties. Super-Sod was formed in 1980 to market sod to expanding urban markets. Super-Sod continuously develops new garden products; fosters gardening and landscaping; and seeks improvement in farming practices, technology, environmental stewardship and employee knowledge.