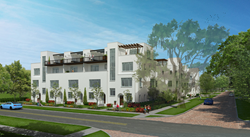 We're excited to bring these fee-simple townhomes to market because there is virtually no supply of quality, mid-priced townhomes in downtown.
Orlando, FL (PRWEB) September 02, 2016
ICON Residential recently closed on 1.1 acres of land at Irving on Park located in downtown Orlando at end of this year. Irving on Main is a collection of contemporary townhouses comprised of 21 contemporary townhomes featuring a variety of floor plans ranging from 1,700 and 2,600 square-feet, priced from the high $300s .
Townhouses feature luxury finishings to cater towards the wide array of household types and ages looking for the downtown lifestyle. Private rooftop terraces, designer wood cabinetry from kitchen to bathroom and hard wood floors are some of the unit features to name a few. This contemporary design also features floor-to-ceiling high quality windows with hurricane resistant glass and concrete block construction for optimal sound and weather insulation while maintaining the elegant modern design. Becky Carey with Crestview Reality is the exclusive agent selling the homes and the sales office is located at address 720 E Colonial Drive, Orlando, FL 32803.
Irving on Park is settled in the North Quarter District, an urban oasis walking distance to shopping, restaurants, music venues, and museums within the area, as well as a short drive from world-famous attractions and theme parks. Getting the best of both worlds, you will have nearby access to the Church Street District nightlife, the charming tree-lined streets around Lake Eola, and the scenic lakes of the North Quarter District.
"We specialize in developing attractively designed townhomes in desirable infill locations across the Southeast US," said ICON Residential Principal Mike Bednarski, a managing partner with the developer. "Our team's core strategy is to re-urbanize alluring neighborhoods near city centers that offer a live-work-play environment.," explained Mike. Exclusive sales agent Becky added, "we're excited to bring these fee-simple townhomes to market because there is virtually no supply of quality, mid-priced townhomes in downtown. The rooftop terraces should also be a huge hit for home buyers looking to move to the area and take advantage of the benefits of owning a home."
About ICON Residential Development
Founded in Tampa, FL in 2009 by Principals Mike Bednarski, Ryan Studzinski and Peggy Tseung, Icon Residential is a real estate investment and development company, with a strong background in residential real estate investing, construction, brokerage and development.
ICON embraces New Urbanist design principles, such as accessibility to an active urban environment, and promotes the opportunity for a "live, work, play" lifestyle. The company's market approach is tailored to contemporary for-sale housing targeting middle income households and empty nesters in primarily the southeastern United States where it creates innovative and desirable custom solutions for infill, for-sale housing. ICON's portfolio contains a growing collection of boutique urban communities that showcase the company's innovative approach to architecture, design and planning. ICON Residential has offices in Tampa, Atlanta and New York. For more information, please visit http://www.iconresliving.com or email info(at)iconresliving(dot)com.