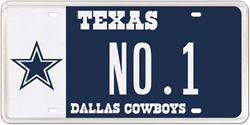 The Cowboys are very popular across the whole state, not just in Dallas.
Dallas, Texas (PRWEB) August 24, 2016
With the pre-season commencement of professional football now underway and College football just around the corner, MyPlates.com, the vendor for specialty license plates in Texas, released their sport and college specialty plate sales ranking for first half 2016.
In the My Plates specialty license plate pro-football figures released, it was the Dallas Cowboys who proved more popular in the off-season outselling the Houston Texans as well as all other sports plate contenders.
Amongst the NBA teams, it was the San Antonio Spurs license plate who held the top spot easily outselling the other two NBA Texas based teams offered by My Plates. The Spurs also held third overall in all pro-sport specialty license plates across the state.
Texas Ranking: ALL Pro-Sports* Specialty License Plates
1. Dallas Cowboys 199
2. Houston Texans 135
3. San Antonio Spurs 89
4. Houston Rockets 32
5. Dallas Stars 31
6. Dallas Mavericks 30
Texas Ranking: Basketball Pro-Teams* Specialty License Plates
1. San Antonio Spurs 89
2. Houston Rockets 32
3. Dallas Mavericks 30
When looking at the College ranks, it was the Aggies that outsold the Longhorns maintaining their dominance at number one in specialty license plate sales. Coming in at third was the University of Colorado with the launch of their plate in Texas earlier in the year.
Texas Specialty License Plate Ranking: Top 10 Colleges*
1. Texas A&M Aggies 481
2. Texas Longhorns 382
3. U. Of Colorado 212
4. Texas Tech 108
5. LSU 96
6. Alabama 95
7. OU 69
8. TCU 64
9. Arkansas 55
10. U. of Houston 53
When looking at all college and sports plates within the big four counties in DFW, it is the pride of the Aggies edging out the Cowboys for the number one spot.
DFW Specialty License Plate Ranking: Top 5 Pro-Sports & College*
1. University of Colorado
2. Texas A&M Aggies
3. Dallas Cowboys
4. University of Texas
5. Texas Christian University (TCU)
Texans looking to show their support of their favorite sports team or college on their vehicle can go to MyPlates.com and order their plate online. It takes approximately three weeks for the plate to be manufactured and delivered to the local county tax office.
Since November 2009, Texans have bought more than 280,000 My Plates, putting more than $45M in the state general fund.
*Sales data sourced from MyPlates.com: Sales from January 1st, 2016 to July 31st, 2016.