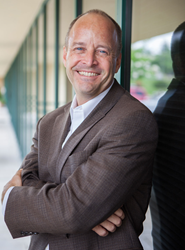 ...we ensure our clients are liberated from the distractions of IT so they can focus on their missions.
Nashville, Tennessee (PRWEB) August 26, 2016
Today Guidant Partners announced their recent ranking with MSPmentor, the ultimate guide to managed services: MSPmentors has rated Guidant Partners as the only Tier 1 MSP in the state. The firm's leadership attributes their high marks to an emphasis on helping improve clients' operational maturity rather than a narrow focus on IT.
"We don't focus on technology first with clients," says co-founder and CEO, Steve Burgess. "Technology is only useful to the extent it improves business performance. We give great attention to clients' business models. Then we analyze how IT can be leveraged to improve their bottom line and increase their operational maturity. Most of all, we ensure our clients are liberated from the distractions of IT so they can focus on their missions."
The model is working. Burgess' firm has grown from a local provider to community banks to a Nashville-based enterprise serving clients with locations from New York City to Juno, Alaska. Their holistic IT approach to services, called "HITS", provides infrastructure hardware, software, projects and support for a flat monthly fee.
"We concentrate so much energy on efficient operations and client satisfaction, so it's gratifying to be validated by reputable third parties," says Randall Dennis, COO of Guidant Partners. "This is the second firm to validate our outstanding operational maturity, but I was frankly surprised by how far we outranked our competition." The Nashville market has no other MSP attaining Tier 1 status, none reaching Tier 2 status, only one reached Tier 3 and all others were ranked as Tier 4.
Guidant Partners' maturity can be traced to shifting their offering a flat monthly rate for their infrastructure services seven years ago. As a consequence, the flat-fee model required considerable investment and advances in processes and measuring effectiveness. "The very nature of our service agreement drives our pro-activity and efficiencies that helped us achieve Tier 1 ranking," says Dennis. "and our internal customer satisfaction surveys support that ranking."
###
Guidant Partners manages IT infrastructures serving mid-market organizations across a variety of verticals. As Tennessee's only Tier 1 managed service provider, Guidant Partners helps organizations throughout the nation by offering:

Reliable uptime (99.94%) to conduct business without interruption,
Consistent technical standards to improve their IT operations maturity,
High scalability for future growth,
Predictable costs for effective financial management,
Hardware as a Service (HaaS) for re-prioritization of capital to mission-vital issues, rather than depreciating assets.
For additional information visit http://www.guidantpartners.com