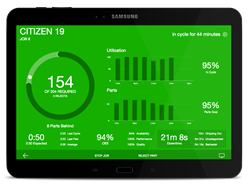 "...program members are able to help their clients adapt to critical new Industry 4.0 and IIoT technology,"
Northampton, MA (PRWEB) August 29, 2016
MachineMetrics today announced their 'Real-time Partner Program.' The program is a collaborative effort between MachineMetrics and partner organizations to provide cutting-edge machine monitoring and real-time analytics software to manufacturers across the globe. The partner program is open to machine tool companies, distributors, advocacy groups and IIoT/lean consultants committed to delivering value to their clients and shaping the future of manufacturing through smart technology.
"Through a partnership with MachineMetrics, our program members are able to help the clients they serve adapt to critical new Industry 4.0 and IIoT technology," said MachineMetrics CEO and Co-Founder Bill Bither. "Our software helps manufacturers to stay competitive through real-time data collection, improved OEE, and deep analytics. MachineMetrics offers the perfect foundation for any lean program or smart manufacturing initiative."
MachineMetrics machine monitoring software will be on display throughout IMTS 2016 at various partner booths, including Toyoda at booth S-8519 and Nomura Swiss at S-9266. Interested parties can also visit MachineMetrics booth N-7181.
MachineMetrics is actively seeking new partnership opportunities. Organizations interested in learning more about the benefits of MachineMetrics' Real-time Partner Program and becoming a member of the program can email info(at)machinemetrics(dot)com or read further and submit their information here.
About MachineMetrics
MachineMetrics is the authority on real-time manufacturing analytics. MachineMetrics machine monitoring software helps manufacturers become more lean by providing real-time production visibility and deep analytics. Data from any machine is made actionable through instant notifications and dashboards displayed on the shop floor.