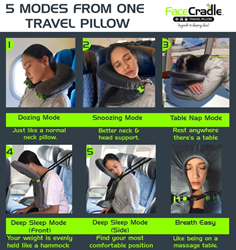 FaceCradle has struck a chord with travelers around the world who want to end uncomfortable and sleep-deprived flights and arrive at their destinations more refreshed and productive
Melbourne, Australia (PRWEB) August 25, 2016
The FaceCradle Travel Pillow has taken off with consumers to raise more than $400,000 USD to become not only the most-funded travel pillow, but the most-funded pillow of any type on the Kickstarter Crowdfunding Website.
Also, for more than half of the FaceCradle's backers it's the first time they've ever invested in a Kickstarter Campaign – which shows the huge potential market for the product among travelers everywhere.
"With about 750 million flights taken last year, the majority of them in cramped economy or coach seats, the airline passenger is apparently ready for this pillow – especially since it's the first to let us sleep like we naturally do – with our heads in a horizontal position," said FaceCradle co-founder David Scrimshaw. "While I'm super-excited about the response we've received so far, I've been hearing from airline passengers who've seen the FaceCradle in action, and the response has been very positive…so why not on Kickstarter?"
Allen, a traveler from Tampa, Fla., says FaceCradle "is a real game changer" and "economy class just got a whole lot better," while Joseph from Manchester, England says an "upgrade to 'sleeping class' is a really good way to describe it." Amy, an airline traveler from Los Angeles says that "when I first got on the plane, the guy next to me looked at me kind of strange," but "by the end of the flight he was like 'where do I get one of those?'"
Scrimshaw says FaceCradle has struck a chord with travelers around the world who want to end uncomfortable and sleep-deprived flights – especially when taking long cross-country and international flights where a few hours of deep sleep would help them arrive at their destination more refreshed and productive.
FaceCradle can be adapted to offer five sleep modes for travelers that provide multiple options for comfort, including a deep-sleep mode that simulates the natural horizontal sleeping position – even while the traveler is seated in a vertical, economy-class seat.
FaceCradle demonstrates its five sleep modes in its viral Facebook video, which has had more than 16 million views and has been shared nearly 115,000 times. The comfort modes can conform to nearly any kind of seating situation aboard a plane, bus, train or even in a car.
FaceCradle has an innovative internal support frame that's hinged and splits into two sections – allowing travelers to lock the angle of five different pillow-settings to support their neck, head and chest. By attaching a harness support and anchoring it around their own seat-back, airline passengers can adjust it to several different configurations that enable 180-degree use of the area in front of their seat.
FaceCradle is available at special introductory pricing for a limited time. To pre-order visit Kickstarter.
Hairy Turtle Pty Ltd.
Hairy Turtle Pty Ltd. was founded in 2015 by two seasoned Australian Entrepreneurs, David Scrimshaw and Roz Ruwhiu. David Scrimshaw, the founder of Australia's most innovative company (awarded by Thompson Reuters) and the founder of market-leading Power Tool Brand, Ozito, has designed, developed and marketed more than 30 consumer products globally. Ruwhiu is a Head of TV Production for a leading advertising agency behind several award-winning commercials for some of the most famous brands. The two combined their experiences to create FaceCradle, designed to help travelers get a good night's sleep. For more information, visit the company's website.