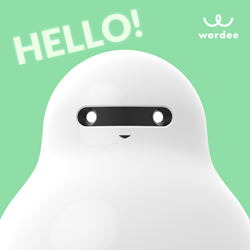 Inspired by the possibilities of the tech age, we wanted to create a toy that not only grabs children's attention but stimulates their curiosity.
Los Angeles, CA (PRWEB) August 24, 2016
Wordee, the revolutionary educational robot that allows children to draw with light, is live on Indiegogo and raising funds to bring the project to life.
Together with the multinational conglomerate, Toshiba, start up tech company, JellyWare Co., Ltd. has developed a robotic toy called wordee™, that marks a paradigm shift in the approach to early childhood literacy training. The robot, paired with a smartphone app, integrates state-of-the-art light synthesis technology with Toshiba's RECAIUS™ automatic speech software. wordee™ works by showing an illustration on the smartphone screen and leaving a temporary trail of glowing letters while reading the word they form aloud as it glides across a phosphorescent surface.
"As technology continues to occupy a significant place in our world, children become familiar with smartphones and new technologies earlier and earlier," says Chief IoT Imagineer Dan Iwasaki, "We believe it's time to take advantage of what technology has to offer to create magical and fun experiences for young learners. Inspired by the possibilities of the tech age, we wanted to create a toy that not only grabs children's attention but stimulates their curiosity."
This interactive approach creates an almost magical experience that feels more like a game then a lesson. It can also be used to transfer drawings and messages from a smartphone to a phosphorescent surface. While wordee™ would be an obvious asset for any classroom or home with young learners, it is also fun to use as a party favor or for messaging between friends and family. It is currently available in English and Japanese.
With its round shape, cute face, and shining eyes... wordee™ is designed to naturally encourage children years 4 to 8 to learn through a playful activity. A smartphone app designed specifically for the robot will show an illustrated picture that is correlated with the words that wordee™ will print.  There are currently more than 80 illustrated pictures and we plan to update the content very soon in the coming months.
In addition to the illustrated pictures, wordee will read out the word correlated with the picture. The technology used for the voice system, is from Toshiba's "RECAIUS™" cloud service. When users enter the drawing tab of the smartphone app wordee™ can print trails of light that perfectly mimic the drawing from the screen
Wordee is currently live and available to support on Indiegogo: https://igg.me/at/wordee/x
About JellyWare Inc.
JellyWare Inc. was founded in September 1, 2015 and is headed by Heewon Choi. Its main business is Internet of Things (IoT) services and product development through the use of hackathon ecosystems. The company is currently developing IoT products with the use of ideas from the hackathon events it organizes. At the same time, JellyWare runs a hackathon/business development consulting business for large corporations with the know-how it has attained through its hackathon ecosystem.
For more information on JellyWare Inc. please visit http://www.jellyware.jp/gadget/wordee/index_en.html
About Toshiba's Audio and Video Cloud Service, RECAIUS™
RECAIUS™ is a cloud service of media information processing technology that integrated, speech recognition, speech synthesis, translation, dialogue, natural language understanding, and image recognition (face image recognition.)
###