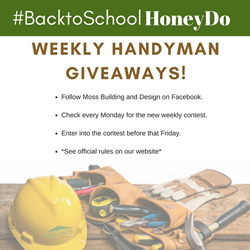 Moss Home Services is an integral part of our company and another way that we build customers for life
Chantilly, VA (PRWEB) August 26, 2016
Northern Virginia remodeling company Moss Building and Design is holding a promotion in the month of August that will give away five 'handyman for a day' deals for free to celebrate back to school. The promotion was created to help customers celebrate Back to School by fixing up their homes and the projects that they may have neglected over the summer.
The company, which is known for providing premiere remodeling services throughout Northern Virginia, including additions, kitchens, bathrooms and basements, also runs highly-rated 'Moss Home Services' which focuses on smaller projects from plumbing projects to drywall patches and more.
"Moss Home Services is an integral part of our company and another way that we build customers for life," said Carly McAlister, Marketing Manager. "Someone who may remodel their bathroom with us will call us back for smaller home repairs because they trust the quality and customer service they will receive from our professionals."
MOSS' Back to School Honey Do promotion will shine the spotlight on one of the top services Moss Home Services has to offer- handyman. "We're excited to give away five Handyman for a Day deals to celebrate back to school! We hope this will help some homeowners tackle some of the things on their honey-do list.," McAlister said. "If you don't win this month, homeowners can also buy our Handyman for a Day at a discounted rate on the MOSS App as well."
Community involvement has always been a big part of the Northern Virginia remodeling company, who recently donated backpacks to many Back to School organizations in the area. Read more about their involvement here.
About Moss Building and Design and Moss Home Services:
Moss Building & Design and Moss Home Services is an award-winning residential remodeling and home services company located in Chantilly, Virginia. As a trusted home improvement company in Northern Virginia, MOSS focuses on providing customer service that is unparalleled by any other contractors in the area. MOSS builds lifelong relationships with their customers that are centered around this trust.
Since 2001, MOSS has established a reputation for excellence in remodeling additions, kitchens, bathrooms, basements and home services throughout Northern Virginia. Their customers see them as a trusted partner, and MOSS is very proud that over 85% of their customers consider themselves 'customers for life.' Moss Building & Design has won consumer awards from Angie's List for six consecutive years and also has an A+ rating from the Better Business Bureau as well as many industry building and design awards.