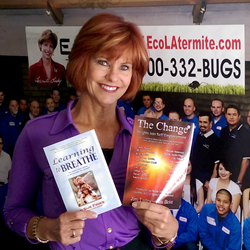 Mission Hills, CA (PRWEB) August 26, 2016
Some describe consistency and repetition as boring, but termites and other pests across the L.A. area have a different word to describe this process: deadly. Ecola Termite and Pest Control Management is known for its persistence and determination when it comes to effectively treating termites and pests in homes and businesses. This is why it has won the Los
Angeles Daily News' annual "Best Of" reader voting competition for the third year in a row.
It's little wonder that the category of "Best Termite and Pest Control Company" has been so consistently dominated by Ecola and Sue Fries. Local residents and businesses place a premium on protecting their homes and properties, increasingly demanding green alternatives to traditional insecticides and contaminants. Ecola Termite and Pest Control Management, under their owner Sue "The Termite Lady" Fries, is setting a whole new industry standard in the termite-stricken area of Los Angeles; reliable pest control and alternative green treatments.
Inspired by the deeply personal cause of a child that struggled with asthma and allergies as a result of traditional household contaminants, Sue has led the green revolution in pest control. Her award-winning book, Learning to Breathe, describes both the challenges and accomplishments of this revolution.
Ecola Termite and Pest Control Management has been in business for 33 years, and continues to provide service that is anything but a cookie-cutter approach to pest control. Instead, it has reinforced Ecola's longstanding practice of treating each home uniquely. ECOLA recognizes that each and every home is different, and requires a flexible, custom approach to everything from termite treatment to rodent control.
When it comes to termite inspections, natural termite control, bed bug removal, rodent control, and all other pest control needs in the greater L.A. area, look no further than Ecola Termite and Pest Control Management. In utilizing alternative green solutions to how to kill ants, how to kill bed bugs, how to kill roaches, and how to protect your home, Ecola's expertise has continued to be a strongpoint for both old and new customers. Three consecutive "Best Of" awards make it clear that Ecola is the name of the game when it comes to all of your termite and pest control needs.