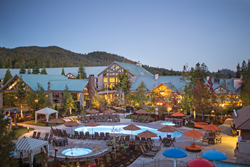 Readers know the Sunset Travel Awards is one list they can trust to plan their next vacation.
FISH CAMP, Calif.; (PRWEB) August 25, 2016
Tenaya Lodge at Yosemite proudly adds another win to its collection—this time for the 2016 Sunset Magazine Travel Award for Best Resort for Families in the West. This award follows on the tails of last year's Best Resort for Pets in the West award from Sunset, making Tenaya Lodge the ideal location for an unforgettable experience with the entire family.
The 2016 Sunset Travel Award winners represent the best the West has to offer in lodging, dining, cultural tourism, outdoor adventure, attractions, and more. Tenaya Lodge is currently featured in the August issue of Sunset and on Sunset.com, reaching almost five million consumers per month. A full list of winners can be found online at Sunset.com/travelawards.
"Travelers today are overwhelmed with opinions on where to go, where to eat and drink, and what to do. Readers know the Sunset Travel Awards is one list they can trust to plan their next vacation," said Irene Edwards, Sunset Editor-In-Chief.
Located just two miles outside Yosemite's south gate, the lodge features five seasonal restaurants, indoor and outdoor pools, a fitness center, the Double Silver LEED-certified Ascent Spa and a variety of onsite and partner activities ranging from guided hikes and archery to horseback riding and watersports. Tenaya Lodge is the perfect Labor Day escape for families looking for a final hurrah before the summer ends. Over the long weekend, guests are in for special evening BBQs, featuring all-American fare and live poolside entertainment.
Extraordinary holiday events and summertime BBQs are a delicious example of how Tenaya Lodge builds family-friendly fun around the changing seasons. Unique celebrations are found year-round at the lodge and this is part of what has made the lodge a beloved family resort for multiple generations of travelers.
Pleasing thrill and soul-seekers alike, the AAA Four Diamond resort has something for everyone. Complementing the wealth of on-site activities, events and local attractions, Tenaya Lodge recently completed a $5 million renovation to the lodge rooms and common areas, infusing the upscale mountain resort with luxurious touches that mirror the beauty of its surroundings.
After a full day of adventuring with the whole family, even the most doting parents may be ready for a little "me" time. With its carefully curated treatments which harness the healing power of seasonal and locally sourced botanicals, Tenaya's Ascent Spa is just the prescription. An integral part of the premier resort and ranked by USA Today among the worlds' best, Ascent Spa makes it easy for adults to indulge in a soothing experience that's all their own. And with onsite babysitting services and Tenaya's Sierra Adventure Club providing counselor-led games, movies and crafts for kids, parents can rest easy knowing they're getting the relaxing down-time they need while their children are enriched.
Rounding out the accolades, Tenaya has also been recognized in 2016 as a Family Vacation Critic Favorite and awarded a Certificate of Excellence from TripAdvisor. The top-notch resort has been recognized by several organizations for its environmentally conscious practices, echoing the lodge's commitment to preserving the environment for future generations of visitors.
For more information and reservations, visit TenayaLodge.com.
About Tenaya Lodge at Yosemite
Tenaya Lodge at Yosemite is an all-season resort framed by noble evergreen forest and a rich range of Sierra recreation. The lodge, set adjacent to Yosemite National Park's South Gate at an elevation of 5,288 feet, offers 302 rooms, suites and mountain cottage accommodations. Tenaya Lodge offers easy access to Yosemite's iconic attractions and many guests savor the alpine serenity of Ascent Spa at Tenaya Lodge. Resort dining options run the table from casual to candlelit at Sierra, Jackalope's, Timberloft and Embers restaurants. For more information, visit TenayaLodge.com.
About Delaware North
Delaware North is one of the largest and most admired, privately-held hospitality companies in the world. Founded and owned by the Jacobs family for nearly 100 years, it is a global leader in hospitality and food service with operations in the sports, travel hospitality, restaurants and catering, parks, resorts, gaming and specialty retail industries. Its portfolio includes high-profile venues ranging from sports stadiums, entertainment complexes, national parks, restaurants, airports, and some of the top regional casinos in the country. The company also owns a selection of award-winning destination resorts, as well as a series of premium restaurants and catering services that are leaders in the industry. Delaware North has annual revenue exceeding $3 billion with 60,000 employee associates serving half a billion guests in the United States, Canada, the United Kingdom, Australia, New Zealand, and Asia.