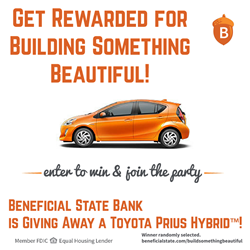 Porterville, CA (PRWEB) August 24, 2016
Beneficial State Bank (Beneficial State), a mission-driven community development bank, is giving away a Toyota Prius Hybrid to an outstanding individual working to improve their community by Building Something Beautiful. As a high-road auto lender throughout California, Oregon, and Washington, Beneficial State is committed to helping families and individuals, particularly those in areas lacking options for fair financial services, gain access to fuel-efficient vehicles.
As a thank you to the communities in the Central Valley and Los Angeles for welcoming Beneficial State, the giveaway is exclusively offered to an individual in Tulare, Kern, Fresno, or Los Angeles counties. Beneficial State recognizes that many people in these communities rely on a car to get to work, while facing a dearth of responsible auto financing options.
Entries received to date showcase the many ways people are Building Something Beautiful throughout their communities, from "planting an organic garden and sharing the harvest with family, friends, and coworkers," to "helping rescue abused animals by volunteering at the ASPCA."
Enter to win online at beneficialstate.com/buildsomethingbeautiful. Entry period ends August 31, 2016. No purchase or payment necessary to enter or win. The winner will be randomly selected on or about September 6, 2016. For official rules visit beneficialstate.com/officialrules.
###
About Beneficial State Bank
Beneficial State Bank is a social enterprise bank founded in 2007 with a triple-bottom-line focus of social justice, environmental resilience, and economic sustainability. Beneficial State is a state-chartered, federally regulated, for-profit banking organization whose economic interest is owned entirely by a non-profit foundation of the same name. Beneficial State is mandated to produce meaningful social justice and environmental benefits in an economically sustainable manner. In December 2010, it acquired ShoreBank Pacific. The merger greatly expanded the Bank's reach on the West Coast and enhanced its capacity to serve its mission. ShoreBank Pacific, a pioneer of environmentally sustainable banking, served both Washington and Oregon. The joint forces produced an enlarged footprint covering a bio-regional territory some call the Salmon Nation and united the synergies of social justice and ecological banking. A few years later in October 2013, Beneficial State Bancorp completed a stock purchase transaction of 90% of Albina Community Bank, bringing a Portland-based community bank that has been investing in individuals, families, businesses, and local neighborhoods for over 20 years, into their family. In June of 2016, Beneficial State Bank acquired Pan American Bank. The combined 12-branch network now serves the California communities of Oakland, Santa Rosa, Sacramento, Los Angeles, Bakersfield, Fresno, Porterville, Visalia, Modesto and additionally Portland, Oregon, and Seattle, Washington.
Beneficial State, a community development financial institution, has been a certified B Corporation since 2013 and has been honored as "Best for the World," a designation reserved for the top 10% of all B Corps based on environmental, community and worker impact. Overall, Beneficial State is the #3 B Corp worldwide on the B Corp impact assessment. For additional information, visit http://www.beneficialstate.com.