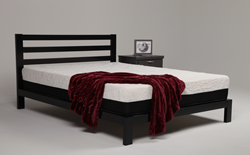 We feel that our customers will do the advertising for us when they spread the word that thanks to their new Amore mattress, they fell in love with sleep all over again
Chicago, Illinois (PRWEB) August 25, 2016
On September 1, 2016, innovative online mattress retailer Amore Beds will hold its grand opening celebration, and for those in need of a new mattress, the time for savings is now.
To keep an element of surprise, Amore Beds will not reveal how much of a discount customers will receive at checkout until September 1st, but "unprecedented discounts" is not an understatement.
"We feel that our customers will do the advertising for us when they spread the word that thanks to their new Amore mattress, they fell in love with sleep all over again."
Amore Beds' claim to fame is affordability and customization. Quite often, two people in the same bed don't share the same preferences when it comes to mattress firmness. Amore Beds solves this problem with the ability to have two firmness levels in the same mattress.
In addition to the thermo-transferring graphite foam that comes standard with every mattress, Amore offers a therapeutic copper ion fabric upgrade that has microbial inhibiting properties for increased odor and bacterial control and improved skin tone.
"...we came across an innovative process that would allow us to make split mattresses… But the innovation didn't stop there! We went a step further, and teamed up with CuTEC to be able to offer their bio-engineered therapeutic copper ion technology, which has been permanently bonded to the individual threads in our mattress fabric."
Based in Chicago and founded in 2015 to address a need for quality beds that skip the middle man, Amore Beds skips expensive advertising and passes the savings directly to the consumer.
More information on Amore Beds is available on the company's website at AmoreBeds.com.
For all other information, contact Support(at)AmoreBeds(dot)com or call 1-844-84-AMORE.