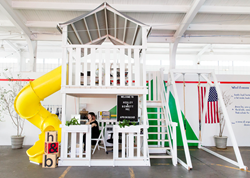 A huge carnival is planned, with all the fixings of a late summer state fair-style celebration.
Los Angeles, CA (PRWEB) August 26, 2016
Culinary Workwear & lifestyle brand, Hedley & Bennett, is known for a few things - color, a love of celebration, pig mascot Oliver, founder Ellen Bennett's adventurous spirit, innovative & collaborative design, and of course, aprons. All of these things will be in attendance at their four year anniversary birthday celebration on Monday, August 29th 2016. A huge carnival is planned, with all the fixings of a late summer state fair-style celebration, and will be taking place at their 17,000 square foot warehouse/apron factory east of Downtown Los Angeles. Grill masters from Traeger will be preparing Belcampo meats in fair food style so corn dogs, brisket and corn on the cob are expected. The threat of perfect storm of pizza looms large as the trifecta of Chris Bianco, Basta and The Urban Oven team up to serve up some supreme slices. Spiked lemonade will be served by Cocktail Academy, alongside Rekorderlig Cider, Goose Island brews, Nomad Wine Co and Hendricks gin & tonics because what could be more summertime? La Colombe draft lattes will also be on tap for that extra caffeine kick to keep the party going. McConnell's ice creams will be served by the scoopful, perfect for the mini apron squad members in attendance.
ban.do floaties are being repurposed to create a photo backdrop for attendees to capture some colorful and fun moments. The Flashdance DJ Michael Antonia will be spinning tunes and dancing is expected. A fruit wall installation by Melissa's Produce will be accompanying a cake by Duff Goldman's Charm City Cakes West so there will be plenty of "Instagrammable" moments. The Bouqs will be providing some sunny floral arrangements fitting of a carnival and Geronimo Balloons will be crafting a balloon display sure to turn heads. As the guest count climbs into the thousand mark, confirmed guests will include some of their most celebrated #apronsquad members such as Tim Hollingsworth of Otium, Michael Cimarusti of Providence, Jesse Tyler Ferguson of ABC's Modern Family, Neal Fraser of Red Bird, Anna Rifle Bond of Rifle Paper and Chelsea Shukov of Sugar Paper.
Food52's west coast pop-up has also taken residence at Apron HQ and will be displaying some of the beautifully curated kitchen and homewares available in it's shop.
As the culinary brand moves into it's fourth year, it moves from just aprons and chef coats to the lifestyle arena with it's latest line of linens and the widely-rumored knife bag redefined, first of a coming collection, which will also be unveiled at the party. This highly anticipated debut comes after months of research and brain picking of notable culinary figures such as Jon & Vinny, Dave Beran, Chef Vartan Abgaryan, along with Jonathan Broida of Japanese Knife Imports. The finished product is a hybrid utility case/knife bag that features beautiful calf skin leather, a woven grip tape design structured to carry any and all tools and a sleek design that combats the bulk associated with traditional knife rolls. Like the rest of Hedley & Bennett's products, the bag is handmade in Los Angeles and will be available online and in stores Fall 2016.