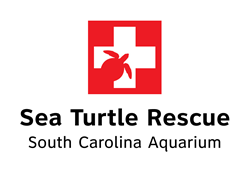 Charleston, S.C. (PRWEB) August 24, 2016
Join the South Carolina Aquarium Sea Turtle Rescue Program at the Isle of Palms County Park tomorrow to experience the release of the Aquarium's 200th rehabilitated sea turtle, Moon. Moon, a juvenile loggerhead sea turtle slated to return to the wild after five months of care, will be joined by Marsh, another juvenile loggerhead that has been in our care for three months. The transportation for the two turtles is being made possible through the use of a 4x4 Sprinter van generously provided by Mercedes-Benz Vans.
The release is taking place on Thursday, August 25 at 4:30 p.m. at the Isle of Palms County Park. It is being held in partnership with the South Carolina Department of Natural Resources (SCDNR) and the Charleston County Park and Recreation Commission (CCPRC). Attendees should plan to carpool, arrive early, and expect to pay for parking at the county park. This release marks 200 threatened and endangered sea turtles rehabilitated and released into the wild by the Sea Turtle Rescue Program.
About the sea turtles:
Moon:
Moon, a 93-pound juvenile loggerhead sea turtle, was found in April of this year in the surf near Garden City, South Carolina. Beachgoers called authorities, who quickly responded to the sick turtle and carefully transported it to the Aquarium's Sea Turtle Hospital. Upon arrival, Moon received a full physical examination from our veterinary team and was diagnosed with Debilitated Turtle Syndrome—emaciation from not eating for months, extreme lethargy and a heavy load of barnacles and leeches on his/her shell. This turtle's heart was beating slowly at a rate of only 10 beats per minute, and blood work was extremely poor. Supportive care was provided which included fluids, vitamins, and antibiotics. Moon responded well to intensive treatment and, surprisingly, showed an interest in food immediately. After five months of care, Moon has been cleared for release.
Marsh:
Marsh, a 149-pound juvenile loggerhead sea turtle suffering from a life-threatening trio of physical injuries, came to the Aquarium in May of this year. Marsh was originally found stuck in pluff mud at Huntington Beach State Park. A team of resourceful rescuers spread plywood sheets across the marsh to reach the stuck turtle and carry it to safer ground, where a vehicle was ready to transport it to the Aquarium's Sea Turtle Hospital. Upon arrival, it was determined that Marsh was not a typical patient—the animal was relatively robust and healthy with the exception of numerous large wounds on the flippers believed to be the result of a shark attack. Following the removal of copious amounts of pluff mud from the animal, hospital team members administered pain medication, antibiotics, fluids and vitamins. X-rays performed not long after admission revealed a huge longline hook, likely intended to catch shark, embedded in Marsh's throat. The most likely scenario is that Marsh went after the bait on the longline hook and, once stuck on the line with the hook in his/her throat, was attacked by numerous small sharks. This aggressive turtle is extremely lucky to have survived the attack! The third physical issue was diagnosed when Marsh was placed in a recovery pool, as it was evident that this loggerhead was also suffering from excess gas in the GI tract. Over the first week in our Hospital, Marsh passed six plastic items, including a clear plastic sheet nearly eight inches in circumference, which were likely causing the excess intestinal gas and flotation. Marsh is just one example of how important it is to use reusable grocery bags and to limit single-use plastics, two easy steps which may help reduce how much plastic enters our oceans. Despite the shark attack, plastic impaction, and longline hook ingestion, Marsh has impressively recovered over a period of four months and is ready and eager to return to the deep blue sea.
Celebrate 200!:
Share your favorite photo or drawing of one of the sea turtles we've rehabilitated using #MarchTo200. The winning picture will be featured in an upcoming ad in the Post and Courier celebrating the Sea Turtle Hospital's 200th turtle release. Drawings and photos will be accepted until September 8, 2016.
Double Your Donation:
To commemorate the release of the 200th rehabilitated sea turtle, the South Carolina Aquarium is proud to announce the commitment of a community challenge grant in support of the Zucker Family Sea Turtle Recovery™ experience. Presented by Dr. Del and Linda Schutte on behalf of the Charleston Institute for Advanced Orthopedics, the Aquarium has secured a challenge grant opportunity for which each dollar raised, up to $100,000 will be matched 1:1. To make a donation visit scaquarium.org/donate.
Slated to open May 2017, Zucker Family Sea Turtle Recovery™ will serve as a living, interactive learning landscape. It will present the remarkable journey from rescue, to rehabilitation, to release that each of our patients experiences, establishing the Aquarium as a powerful educational presenter of sea turtle conservation on the East Coast.
How you can help sea turtles:
You can help protect threatened and endangered sea turtles. Join the South Carolina Aquarium for the inaugural Turtle Trek, a 5K sunset beach run on the Isle of Palms. The run takes place September 10 and all proceeds raised will support the South Carolina Aquarium Sea Turtle Care Center™. To register click here.
If you find a sick or injured sea turtle, contact the SCDNR sea turtle hotline immediately at (800) 922-5431.
To read about our patients or to track their recovery progress, visit our Sea Turtle Rescue Program blog at scaquarium.org. Follow us on Facebook and Twitter for the latest updates from the hospital, including public sea turtle release details.
For all media inquiries, please contact Kate Dittloff at (843) 579-8660 or kdittloff(at)scaquarium(dot)org.
About the South Carolina Aquarium Sea Turtle Rescue Program:
In partnership with the South Carolina Department of Natural Resources (SCDNR), the South Carolina Aquarium Sea Turtle Rescue Program works to rescue, rehabilitate and release sea turtles that strand along the South Carolina coast. Located in the Aquarium, the Sea Turtle Hospital admits 25 to 40 sea turtles each year. Many of these animals are in critical condition and some are too sick to save.
According to SCDNR, during the past 10 years the average number of sea turtle standings on South Carolina beaches each year is 138. Of these, roughly 10 percent are alive and successfully transported to the Sea Turtle Hospital. To date, the South Carolina Aquarium has successfully rehabilitated and released 200 sea turtles and is currently treating 14 patients. The average cost for each patient's treatment is $50 per day with the average length of stay of nine months.
About the South Carolina Aquarium:
The South Carolina Aquarium features thousands of amazing aquatic animals from river otters and sharks to loggerhead turtles in more than 60 exhibits representing the rich biodiversity of South Carolina from the mountains to the sea. Dedicated to promoting education and conservation, the Aquarium also presents fabulous views of the Charleston Harbor and interactive exhibits and programs for visitors of all ages.
The South Carolina Aquarium is a 501(c)(3) not-for-profit organization and is open daily from 9 a.m. to 5 p.m. (last ticket sold at 4 p.m.) The Aquarium is closed Thanksgiving Day, half day Dec. 24 (open 9 a.m. to 1 p.m.) and Dec. 25. Admission prices are: Toddlers (2 and under) free; Youth (3-12) $17.95; Adults (13+) $24.95. The Aquarium plus the 4-D Theater experience is free for Toddlers, $22.95 for Children, $29.95 for Adults. The 4-D Theater experience only is $6.95 for Children and Adults and free for Members. For more information, call (843) 577-FISH (3474) or visit scaquarium.org.