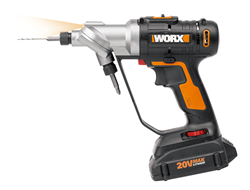 Switchdriver has been shown to drill pilot holes and drive screws in half the time as a conventional drill/driver.
Charlotte, N.C. (PRWEB) August 31, 2016
The innovative new WORX® 20V MaxLithium Switchdriver™ has a rotating head equipped with two ¼-inch chucks that can be loaded with different combinations of drill or driver bits. This allows the user to drill a pilot hole, for example, and then quickly rotate the head to switch chucks and sink the screw with a driver bit.
"Switchdriver is a great idea whose time has come as a user-friendly and durable cordless drill/driver," said Jeanne White, WORX Senior Product Manager. "Different bits are held securely in separate chucks, and it's a snap to rotate from one to the other, as needed. The tool also has plenty of power and torque to handle a wide range of projects."
Switchdriver's two ¼- in. chucks rotate 180º clockwise or counterclockwise with the push of a red button located just above the trigger. Both quick-release chucks are easy to load and accept standard hex-shaped bits, which can be found at most hardware stores and home centers.
Switchdriver has been shown to drill pilot holes and drive screws in half the time as a conventional drill/driver. Drilling pilot holes makes screws go in easier and straighter. It also prevents work pieces from splitting or cracking, depending on the material. It also guards against bent or stripped fasteners, as well as rounded-out screw heads.
Switchdriver is ideal for woodworking projects that involve switching between a countersink and driver bit. It's also handy for installing shelves, curtain rods or blinds with drywall anchors. Other typical applications include installation of kitchen or bathroom hardware, hinges and door sets, as well as assembly projects requiring different bits, including Phillips, slotted, square recess, Torx and nut drivers.
With Switchdriver on the job, there's no fumbling to find the right bit or climbing down a ladder to retrieve one that's been dropped. Proper bits can be determined ahead of time and pre-loaded for continuous operation.
Switchdriver is powered by a capable 20V MaxLithium battery with a 5-hour recharge time. The versatile drill/driver features and 11-position clutch with electronic torque control to prevent stripping of screws. A two-speed gearbox provides no-load speeds of 0-400 and 0-1500 rpm. Maximum torque is 265 in.-lbs. The tool's drilling capacity is 1-3/16 in. in wood and 3/8 in. in mild steel.
Although Switchdriver is a heavy-duty performer, it's still a bantam-weight at only 3 lbs. (with battery). The cordless drill/driver features a comfortable overmold grip on the front and back of the handle. There's also a vertical guard beneath the headstock that shields the user's hand from contact with the second bit.
A built-in LED light above the chuck illuminates the work area when the trigger is pressed. The 20V MaxLithium battery pack is part of the WORX 20V Power Share program and can be used interchangeably with WORX diy and lawn-and-garden tools.
Switchdriver includes two, 1.5 Ah batteries, a charger, carrying bag and two drill bits (1/8 in., 3/32 in.) and one #2 Phillips bit. The tool is covered by the WORX 3-year warranty.
The WORX 20V MaxLithium Switchdriver (WX176L, $99.99) is available at http://www.worx.com and other online retailers including Lowe's.
To reach out to WORX social media links visit: Facebook: https://www.facebook.com/worxus?ref=hl; Twitter: https://twitter.com/WORXTools; Pinterest: http://pinterest.com/worxtools and Instagram: @WORXTools