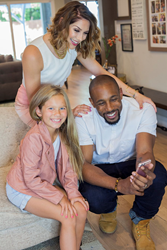 "We've been testing out Airtime + Circle and the Circle GO app on our 8 year old daughter's first mobile phone and we love it!" - Allison Holker
Glendale, CA (PRWEB) August 25, 2016
Airtime Labs, LLC (helloairtime.com), a mobile telecommunications solutions company targeting the under served youth market, today announced the addition of Allison Holker ("Dancing with the Stars," "So You Think You Can Dance") and Stephen "tWitch" Boss ("The Ellen Show," "So You Think You Can Dance," "Step Up" franchise), both professional actors, dancers and entertainers, as Brand Ambassadors for Airtime Labs. The Boss' will assist in informing and educating families about the safe, affordable and flexible mobile services & devices offered by Airtime Labs. Parents will be able to provide their children unparalleled options for their phones & tablets – teaching them responsibility, while monitoring & taking charge of their usage. As concerned & tech savvy parents, Allison & Stephen are already using Airtime Labs for their 8-year old daughter Weslie, and they couldn't be happier.
Airtime Labs' Founder and President, Jeremiah Cox, stated, "Our company is so excited to welcome the Boss family to our Airtime family! I originally met Stephen and Allison at various charity events, and they have both been so collaborative and generous in lending their talents and celebrity appeal to the Airtime brand. Now that helloairtime.com is officially launching on August 24, 2016, we can work together to begin promoting our message of protecting families — helping parents to keep a watch on age-appropriate online content for their children and helping families to balance time wisely as it pertains to their digital screens. Through our strategic alliance with Circle with Disney, (meetcircle.com), Airtime can offer a powerful combination of safe and affordable options for mobile devices and wireless rate plans. Pair that with the fan-based social media boost that Stephen and Allison will provide, and Airtime Labs is poised to be the wireless provider of choice for the 66 million US parents with kids 18 years old and younger. It's a great time to be a kid! Airtime Labs seeks to ensure that all of our kids learn how to use technology to help them become the best version of themselves."
As parents to young children, Allison & Stephen know the importance of staying informed when it comes to what their kids are being exposed to online and through social media. Allison Holker stated, "We've been testing out Airtime + Circle and the Circle GO app on our 8 year old daughter's first mobile phone and we love it! Aside from teaching her a lesson in being responsible, we can also now communicate whenever we want, and remain secure in knowing that she is protected and safe.
Stephen Boss added, "In today's age of information, FINALLY there is a product that can help us teach our children to use their smart phones responsibly! I look forward to helping Airtime get that message out there to the masses."
About Airtime Labs, Circle with Disney and Circle GO:
Airtime Labs (helloairtime.com), was founded with the mission of providing safe and affordable technology options for families, by offering monthly phone and tablet plans for kids and teens. The company has cultivated a strategic alliance with Circle with Disney, (meetcircle.com), making use of their time management tools as well as their content filtering systems, to provide a complete mobile device solution for parents seeking to deliver a safe and affordable technology option for their kids. Airtime is excited to make use of the Circle GO app, designed specifically for mobile smartphones and tablets, which allows the device schedules and filters, set up on the home Wi-Fi network, to follow the child out the door on their phone's data plan, and also on other Wi-Fi networks outside the home. This allows parents, even remotely, to provide limits on the amount of time spent online and on social media sites, creating a balance of time spent on daily activities and helping kids to stay better-rounded in their pursuits. With Airtime + Circle, families finally have the perfect mobile phone solution, combining safety, affordability and flexibility in one simple package.
@helloairtime