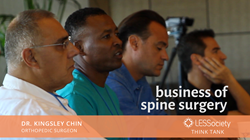 We... work collaboratively to find new ways to take care of the patient."
Boston, MA (PRWEB) August 26, 2016
The Less Exposure Surgery (LES) Society announced today the six key takeaways from its first annual LES Society Business Symposium at Ocean Reef in Key Largo, FL. Founded in 2008 to empower surgeons to advance LES innovation and patient care in spine, the LES Society will use the symposium as a milestone toward cementing the key tenants of the LES society. Jessica Morgan, the Program Director at the LES Society states, "The society was created for fellows, residents and young surgeons, empowering them to drive change and revolutionize the future of spine care alongside experienced physicians."
The LES Society also released a video highlighting key discussion points from this symposium.
The LES Society's key modalities include providing clinical, research and educational experiences both in and out of the operating room and offering business development participation opportunities in philanthropic endeavors undertaken by the LES Society's founder, Dr. Kingsley Chin.
Dr. Chin states, "Surgeons today face an ever changing medical landscape with sometimes limited experience of how the business of healthcare works. With reimbursement rates at an all time low and patients approaching their treatment plans with a consumer attitude, it is increasingly important that surgeons have all of the necessary tools to become successful in their field using the latest technology, coupled with LES surgical procedures."
Six take-aways from LES Society's recent meeting are as follows:
1. Fellows & Residents. The LES Society has made a commitment to the development of young surgeons by investing in residents and fellows. By recruiting tenured surgeons with a wide range of experience to guide this year's pilot program, the Society will empower residents and fellows to individualize their program to meet their educational and career needs. Senior faculty will assist residents and fellows with board review and technical training, career education, business development, and philanthropic opportunities.
2. Data & Research. Surgeons attendees were asked to begin gathering data and share case studies, as well as patient follow-up data. Several volunteered to begin sharing data and the Society will provide a simple and effective means of collecting and sharing their case data and research.
3. Training. The Society believes LES education is the answer to today's treatment needs. They will continue to selectively recruit LES surgeons to participate in regularly scheduled bioskills training labs and trust that the right technique will be found with training and analysis of patient data.
4. LES Technology. In partnership with LES surgeons, the Society will identify and develop technology that most benefits the patient. This new technology will be introduced exclusively to members of the society. This was demonstrated with the LES SacroFuse posterior technique presented during the meeting. This opportunity for development and exclusive availability will include the AxioMed viscoelastic total disc replacement.
5. Ecosystem. The LES Society is interested in modeling LES patient care after the Kaiser Permanente model of care, which has flourished in the healthcare industry for 80 years. The LES self-sustaining ecosystem of patient care is designed to bring control back to the physicians and their patients. The LES Society acknowledges this is a grand vision and it led discussions during the meeting. The LES Society and its strategic partners will continue to develop this vision. The LES Society quotes Victor Hugo often: "There is nothing more powerful than an idea whose time has come "
6. Local Growth. The LES Society believes local presence is important. The Society aims to have a presence wherever leading surgeons practice. We connect these surgeons with fellows and young surgeons to grow LES awareness. This grassroots effort is dependent on regularly hosted local events, including Journal Clubs, bioskills labs, and business symposiums.
Whether it be research, technology, philanthropy, missions, credentialing or certification, the LES Society is built to serve its members. It's only with the collaborative support and participation of our surgeon members that the LES Society will bring change to healthcare. LES advocate and key faculty member Dr. Josue Gabriel is excited to be a part of the society, stating "We are able to talk to each other and work collaboratively to find new ways to take care of the patient."
About LES Society
The LES Society was established to be an organization that challenges the status quo. The LES Society's mission as a global 501c(3) non-profit is to organize physicians and patients to focus on supporting entrepreneurship, research, education, techniques, technologies, advocacy and philanthropy. The LES Society is leading the charge to prove, through bench-marking and clinical outcomes research, that Less Exposure Surgery (LES) treatment options are the best solutions to lowering the cost of healthcare. In addition, LES improves outcomes and patient satisfaction. These procedures are performed safely and routinely in ambulatory surgery centers throughout the United States.
The LES Society has a full calendar of upcoming events. Join the LES Society movement at their next event!
To sign up, visit LESSociety.org.
Contact Jessica Morgan at jessicamorgan(at)lessociety(dot)org for more information.