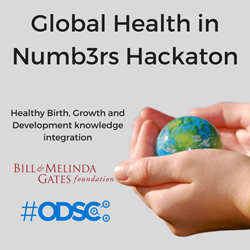 Inspire the next generation to solve problems that plague today's poorest people.
London, UK (PRWEB UK) 29 August 2016
Some people are inspired to change the world. They are driven to ensure that children survive and thrive to their full potential. They want to empower the poor. They want to fight diseases that make life a never-ending struggle.
The Bill & Melinda Gates Foundation and Open Data Science Conference (ODSC) are teaming up to revolutionize health care, using the power of data science.
Guided by the belief that all lives have equal value, the Gates Foundation's vision is to ensure a world where every person has the opportunity to live a healthy, productive life.
The Foundation's Healthy Birth, Growth, and Development knowledge integration (HBGDki) initiative is a global data-driven project.
We have integrated many data sets about child growth and development into a large knowledge base. We are using these data sets to learn about factors that stop body and brain growth, and to develop optimal solutions.
ODSC, a globally recognized data science community has joined this massive effort by contributing its wealth of data science knowledge and experience to better organize and interpret this huge resource and save lives.
The goal of the Global Health in Numb3rs Hackathon is to inspire the next generation to solve problems that plague today's poorest people. This is an opportunity for data science to make a huge difference! HBGDki and ODSC are excited to provide a launchpad for fellow data scientists to transform the future!
At this fun-filled and engaging workshop and hackathon, attendees will:

Learn about the progress and impact that data science is making on pressing problems.
Engage directly with these massive data sets and questions.
Learn how to apply the pharmacometric approach to tough Global Health problems for immediate and durable impact.
Please join us and help identify the right preventive and therapeutic interventions, in the right dosage, for the right child, at the right time, to get the right response for better child growth and development.
Learn more about registering for this free event here.