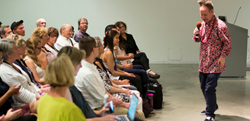 Artists notably become the peaceful warriors campaigning for the humane rights and tolerant consciousness that citizens of Earth want regardless of the tricks and games of politicians. Dr. Carol Francis
Los Angeles, CA (PRWEB) August 25, 2016
Dr. Carol Francis details findings about how "Masks Reflect Multiple Self-Identities: Ancient Archetypes and Modern Disguises of the Human Drama" at the International Arts in Society Conference held this year at UCLA, August 2016. Dr. Carol Francis is a Clinical Psychologist from the Los Angeles South Bay Area, researcher and author who explores multiple aspects of human engineering, relationships, politics, conflicts, and patterns. For more information regarding the presentation, please contact Dr. Carol Francis at 310-543-1824 or drcarolfrancis(at)gmail(dot)com.
International Arts in Society of 2016 focuses on "The Practice of Art in the Age of the Anthropocene," an era wherein the most significant impact on Earth are being created by humans.
Keynote speakers include Peter Sellars, a director of opera, theatre, and film. He is renowned worldwide for his innovative treatments of classical material from western and non-western traditions and for his commitment to exploring the role of the performing arts in contemporary society. Dr. Etienne Turpin also will speak from Southeast Asia and he is a philosopher studying, designing, curating, and writing about complex urban systems, political economies of data and infrastructure, visual culture and aesthetics, and Southeast Asian colonial-scientific history.
From St. Petersburg, Russia, Dr. Yaroslav Barichko discusses "The Alternative Movie Posters Phenomenon" Dr. Barichko is from the Faculty of Economics and Management at St. Petersburg State Technological Institute, St.Petersburg, Russian Federation. He discusses a phenomenon which arose in the beginning of the 2000's as a reaction on photo collages and modern film posters.
From Nigeria, Dr. Felix E. Ugbeda, discusses "Transforming African Sacred Traditional Theatre to Secular African Modern Theatre." Dr. Felix E. Ugbeda is the professor of Theatre and Film Studies at the University of Nigeria, Nsukka, Nigeria. His presentation reveals how in Africa, there are numerous sacred traditional theaters which are facing extinction. Such sacred performances have potentials which, if properly harnessed, could lead to major breakthrough in world entertainment industry.
Dr. Carol Francis, a Clinical Psychologist from the Los Angeles South Bay Area, discusses the artistry and meaningfulness of human's many identities and masks related to sociological functions of human survival and proliferation of self-expression. Explore the beauty of Venetian, Peruvian and Mexican masks compared with personal, creative techno-era expressions of self and society.
Artist and political satirist, Nancy Ohanian, presents her amazing published political illustrations that represent the global reach and capability of digitally created political art as a wordless voice for social awareness.