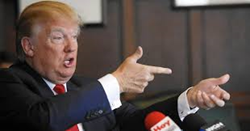 What if Bob Dylan sang a Trump protest song?
NewYork, NewYork (PRWEB) August 30, 2016
McNes Music, LLC poses the question, "What would a Trump protest song sung by Bob Dylan sound like?" Well, go to YouTube and find out! Search for: Robbing Us Barren or click on: https://youtu.be/stIBKt2i26Y. Robbing Us Barren is a folk-styled protest song that pokes fun at everybody's favorite GOP Candidate, Donald J. Trump. It is sung with a voice from the past about the "time that are a changing" right now with Donald J. Trump's rhetoric about making America great again.
Ron McClendon, Co-Founder of McNes Music addressed the mission of McNes Music, "We try to write profound music that will open minds and create conversation about topics that are front and center in our daily lives. Not all songs we will write will be about the hot topics of our times but with the election rapidly approaching we thought it was necessary to voice our opinion now."
Here are the lyrics to Robbing Us Barren…
Verse I
My fellow countrymen lend me your rear. There's a hole in one SCREWED and ready to tear. Keep his hands held HIGH so we can measure the CRIME. Winning will be losing then you can really whine.
Verse II
We seek a transparent leader to win the race. But that makeup color really clowns his face. AREN'T you glad you know who's in charge here? Black or white - the message it's SUPREMELY c-l-e-a-r.
Chorus
Where are the cops? Here comes the robber. Where are the cops? THERE IS THE ROBBER! He's dealing from the bottom so we all will fold. HE'S A ROBBER BARON spinning lies into fool's gold.
Verse III
Let's keep them OUT. Let's keep us IN. Who gives a S*%T about their next of kin? He's got his name stamped on a borderline wall. While bridges crumble that can connect us all.
Verse IV
Negotiations are easy when he makes the call. The terms are clear when says, "BOMB THEM ALL!" He wrote the Bible so what's the sin? LISTEN TO HIM, MAN. He knows how to win.
(Repeat Chorus)
Bridge
Fire up your base and fire all the rest. FIRE UP YOUR BASE AND FIRE ALL THE REST! Or just sue, baby, sue. You do that the best. AHHH…JUST FIRE ALL THE REST!!!
Verse V
The stakes are high but there's no red meat to see. I am pretty stupid. I am still paying for my degree. Mortgaged is my future. YOU THREW AWAY THE KEY. Where's my shot of vodka after my spending spree?
Verse VI
The crown on your head - it looks kind of strange. With you in charge it'll be country-wide SHOOTING RANGE.
I rather feel the burn than elect someone so insane. Or BETTER still someone who can feel my pain.
(Repeat Chorus)
He's a robber baron, oh say can you see?
McNes Music, LLC is a New York based limited partnership focusing providing songs for the masses. Whether you like what you hear "as is" or are looking to perform these songs, we have the song for you. We can write and produce songs and the music for them in any style desired. Have an idea or concept for a song? We can help and create the sound you want. For more information e-mail us at McNesMusicLLC@gmail.com or call 347-548-5569. We are on Twitter Too! @McNesLLC