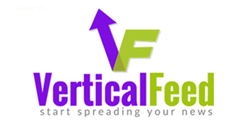 New York, NY (PRWEB) August 25, 2016
Folio and parent company Access Intelligence announced today the launch of VerticalFeed, a custom editorial video service that now gives trade associations, nonprofits and advocacy groups a highly efficient and creative way to increase community engagement.
VerticalFeed is a subscription news service providing short custom news feeds for associations with the goal of informing and engaging their audiences. The VerticalFeed team of multimedia specialists handle the entire creative and production process, making for a seamless experience for resource-strapped media departments.
"We're excited and eager to show associations how VerticalFeed can niche their news, increase time on-site by readers, and even allow their media department to become a profit center," notes Tim Hermes, founder and publisher of VerticalFeed. "It's the ultimate solution for those with nascent video strategies who don't have the resources to deliver high-quality video programs on their own."
VerticalFeed is an editorial service of Folio, the premier brand serving media professionals and covering the trends in the media business, through the annual Folio: Show, Eddie & Ozzie Awards, Association Summit and foliomag.com.
"With video being the leading source of traffic and engagement for media brands, VerticalFeed is a smart solution for our media community," said Don Pazour, president and CEO of Access Intelligence. "We are very optimistic about video's power to inform and VerticalFeed's ability to truly help our partners get there."
VerticalFeed is now part of Access Intelligence's Media/Communications Group, led by Diane Schwartz, senior vice president. The group's other brands include PR News, AdMonsters, Cynopsis, Folio, min, Cablefax, Studio Daily, The Social Shake-Up, and sister brands Chief Marketer, Multichannel Merchant, Event Marketer and others.
The launch marks Access Intelligence's continued investment in innovative digital solutions for business executives. Over the past several years, Access Intelligence completed acquisitions in the media/marketing and healthcare sectors, including that of The Social Shake-Up, AdMonsters, LeadsCon, Red7 Media, OR Manager and Cynopsis Media.
To speak with Tim Hermes or the Folio executive team, please e-mail tim(at)verticalfeed(dot)net.
About Access Intelligence
Access Intelligence, a portfolio company of Veronis Suhler Stevenson, is a b-to-b media and information company headquartered in Rockville, Md., serving the media, PR, cable, healthcare management, defense, chemical engineering, satellite and aviation markets. Leading brands include PR News, AdMonsters, Cynopsis, Cablefax, Folio:, Event Marketer, LeadsCon, Chief Marketer, Media Industry Newsletter, Defense Daily Network, AviationToday, Studio Daily, Power, Via Satellite and Exchange Monitor. Market-leading shows include LeadsCon, AdMonsters OPS and Publisher Summits, The Folio: Show, Experiential Marketing Summit, SATELLITE 2017, OR Manager, LDC Gas Forums, Clean Gulf, ELECTRIC POWER, and Western Power Summit.
About Folio
Serving media professionals worldwide, Folio: is the go-to resource online and face-to-face for real-world media business strategies and tactics. It hosts the largest industry trade show, The Folio: Show, which will be held Nov. 1-2 in NYC. It also recognizes excellence in Editorial and Design with the largest recognition program, the Eddie & Ozzie Awards. Other Folio: products include Folio: Magazine, The Association Summit and the premier website, foliomag.com.
About Veronis Suhler Stevenson (VSS)
Veronis Suhler Stevenson is a leading private investment firm that invests in the information, business services, healthcare IT, education, media and marketing industries in North America and Europe. VSS provides capital for buyouts, recapitalizations, growth financings and strategic acquisitions to middle market companies and management teams with the goal of building companies organically and through a focused add-on acquisition program. VSS makes privately-negotiated investments across the capital structure and has the ability to invest in situations requiring control or non-control equity, mezzanine securities and structured equity securities.