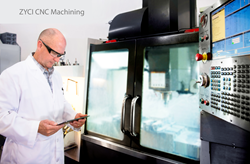 Our customers have pushed us to move beyond just supporting their needs for on-demand low volume part production
Atlanta, Georgia (PRWEB) August 26, 2016
ZYCI announced today that it has completed the acquisition of CNC Machine Group further expanding the company's CNC machining, 3-D printing, plastic molding and contract manufacturing capabilities.
CNC Machine Group has a 22 year history of serving many loyal customers from prototype through high volume production and assembly services. "CNC Machine Group's passion for customer service and sense of urgency, coupled with the team's deep domain expertise, perfectly aligns with ZYCI's service leadership culture," said Mitch Free, Chief Executive Officer of ZYCI.
"Our customers have unanimously told us they appreciate our collaborative approach, business model and commitment to doing what we say we will do, when we said we would do it. We have garnered an impressive customer list just by focusing on doing the basics well. Our customers have pushed us to move beyond just supporting their needs for on-demand low volume part production and offer them support for their ongoing production needs. In order to rise to that challenge we needed to scale quickly and add more experienced manufacturing professionals on our team. As anyone who follows the manufacturing industry knows, one of the biggest challenges for manufacturing companies in the United States is finding the highly skilled manufacturing talent. To that end, the greatest value our customers receive from our acquisition of CNC Machine Group is access to even more experienced manufacturing professionals working as a cohesive team that would otherwise take years to develop from scratch. " Free noted.
Headquartered in Atlanta, Georgia, ZYCI was founded in 2013 by Mitch Free and Shirene Free, serial entrepreneurs and pioneers in the manufacturing industry. ZYCI has quickly become one of the nation's leading made-to-order manufacturing for customers in a variety of industries including aerospace, defense and medical devices. ZYCI offers fast quotes and short lead times on CNC machining, 3-D printing and plastic molding. ZYCI differentiates itself from rapid part production competitors by offering tight tolerances, complex geometries, exotic materials and assembly services.