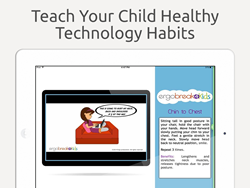 Ergobreak 4 kids apps the healthy solution for technology habits with devices in school or the home.
Sydney, Australia (PRWEB) August 26, 2016
The debate about the excessive use of technology in schools or the home by children is endless. Some argue that parents should limit technology use, while others insist that today's parents need to get comfortable raising children in the digital age. Some educators have suggested phasing out technology in schools, whilst others are looking for solutions for the health and wellbeing in children. Regardless of which camp you're in, there is one angle that everyone should be concerned about: long term injury is sure to result from long periods of poor posture.
According to Professor Leon Straker, Director of Research in the School of Physiotherapy at Curtin University "Ergonomics is really important for school children. Before they finish high school, two thirds of children would have experienced their first episode of back or neck pain. Having back or neck pain as a child makes you more likely to have chronic back or neck pain as an adult."
Priscilla Rinetzky, CEO of Ergo Productions, has thus launched Ergobreak 4 Kids, an App that ensures children develop healthy patterns of technology use, with ergonomic tips, short breaks showing an exercise to ensure circulation and avoid repetitive strain. "As adults, being hunched over a computer for long periods of time, without taking breaks has been standard. It has now been seen that these habits have created often devastating physical ailments. Parents of now didn't grow up using technology everyday, and didn't have the opportunity to observe the long term effects of poor posture. Today's digital parents often don't realize that their children need to take breaks, change posture and exercise whether they are using technology for 20 minutes or two hours per day. Forming the right ergonomic habits in their formative years is as important as it is for a thinner child to learn to avoid sugar and junk food for lifelong health." Rinetzky is thinking big picture - her vision is for all Elementary Schools to employ Ergobreak 4 Kids to drive the right habits early and ubiquitously. And she's getting traction.
Ergobreak 4 kids has drawn international attention and support from renowned experts. The Educational App Store of the UK, which consults leading academics and practicing teachers to build its Teacher Library, added Ergobreak 4 Kids, giving it 5-star accreditation. Ergobreak 4 Kids is also being incorporated into all lesson plans on Tap2Teach.com, a new website that will provide free Apps and associated lesson plan materials for all teachers. Dr. Kirsty Goodwin is a highly sought after brain researcher and expert on young children and technology. Having conducted workshops for Nickelodeon Australia, Dr. Goodwin highly recommends use of Ergobreak 4 Kids ( http://www.ergobreak4kids.com) because "it offers practical and simple ergonomic tips and advice for kids, parents and educators. This tool helps today's youth form healthy and sustainable digital habits that won't compromise their physical health and well being."
About Ergo Productions:
Ergo Productions is a Sydney-based company comprised of a team of international designers and developers who are committed to developing educational, ergonomic Apps that keep children and teachers healthy whilst using technology. Ergo Productions is committed to further building a powerful family of Apps that focus on ergonomics and healthy technology lifelong habits.