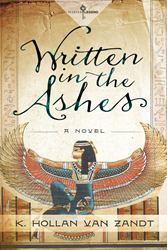 "Written in the Ashes is one of those rare novels that sets 'history' afire, to bathe readers in the glow of a greater, hotter truth. Fans of The Mists of Avalon will find this [epic] equally captivating."— bestselling author Tom Robbins
San Francisco, CA (PRWEB) August 25, 2016
After she is abducted from her home in the mountains of Sinai, a servant girl named Hannah is enslaved and taken to Alexandria, where she becomes the property of Alizar—an alchemist and pagan secretly working to preserve his culture. Revered for her beautiful singing voice, the young slave is invited to perform at the city's Great Library, where she becomes friends with the famous mathematician and philosopher, Hypatia, as well as other pagans who curate its magnificent collections. Determined to help them uphold pagan culture and traditions, Hannah embarks on a dangerous quest to unite the fractured pieces of the Emerald Tablet—the last hope to save the pagans and create peace.
On an odyssey that leads her to the lost oracles of Delfi and Amun-Ra and to rediscovered ancient cities and rituals, Hannah will experience forbidden loves, painful betrayals, and poignant reunions. But her efforts may be in vain. Returning to Alexandria, Hannah finds a city engulfed in violence, even as her own romantic entanglements come to a head. Now, it's not only her future, but the fate of all Alexandria itself that is at stake.
A captivating blend of history, adventure, religion, romance, and mysticism, Written in the Ashes (September 27, 2016; E-Book; ISBN 9780062570123) will speak to anyone who has sought to forge stronger bonds or foster better understanding between cultures, beliefs, and long-standing traditions.
About the Author
K. Hollan Van Zandt is a native Californian. She travels the world teaching writing and yoga, and is a mother, pagan, and cultural scholar. Written in the Ashes is her first novel. Visit her at http://www.KaiaVanZandt.com.
About HarperLegend
HarperLegend is a new line of eBooks from HarperOne, an imprint of HarperCollins Publishers. We seek to discover and publish authors of visionary and transformational fiction in digital first format. For more information, please visit http://www.harperlegend.com.