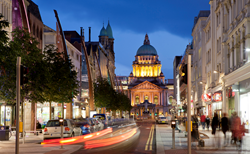 We are thrilled to be basing our central offices in Belfast, there's a lot of talent here and as a local born and reared, I have a particular interest in developing the city and putting Northern Ireland on the blockchain map.
Belfast (PRWEB) September 08, 2016
Global computing firm Razormind has chosen to locate their European Headquarters in Belfast creating 12 jobs, 20 paid internships, a new blockchain lab, and installing 10 BitCoin ATMs over the next 12 months. The offices will be located in The Scottish Provident Building, next to City Hall. Razormind currently has European sites in London, Paris, and Munich for which the Belfast HQ will take a leading role.
Blockchain Lab
The new offices coincide with the opening of the first blockchain research lab in Belfast in collaboration and partnership with Universities in the Belfast area. The lab - codenamed "Razor's Edge" - will be situated in South Belfast near the Queens University - an institution known for public research. Razor's Edge will focus on applications for banking, payments, enterprise and industry with the priority on immediate benefits to the Northern Irish economy.
Blockchain and Belfast
To help Belfast industry recognize the potential returns of incorporating blockchain into their operations, Razormind will provide workshops and training in blockchain technology to local businesses. A paid internship program is also now available offering commercial experience, client exposure, references, and recommendations for future work for graduates, students, and industry professionals interested in working on corporate projects. The internships salary starts at £1000 per month.
"We are investing in Belfast as it is our home and the best place in Europe to do business with an international scope. In order to catalyse this we will welcome 20 paid interns. We've also agreed to set up a blockchain lab in South Belfast to encourage new local startups and research use-cases."
Jawad Yaqub, CEO, Razormind
To encourage local engagement Razormind are partnering with the local bitcoin association in Northern Ireland (BANI), a non-profit voice of bitcoin, blockchain and cryptocurrencies in Northern Ireland. The new partnership will focus on providing everyday services into the community to benefit users of blockchain technology.
10 new BitCoin ATMs for Belfast
Bitcoin and Blockchain currencies are untaxed under UK and EU Law and it is anticipated this expansion will help accelerate the local economy. Several new tax free bitcoin ATM's are destined for key locations around the city (such as the airports, universities, the city centre) which align with known 'bitcoin hotspots'. The investment will see Belfast having the largest number of bitcoin ATMs per head than any other city in the UK, and the USA and Canada.
DeOS
Razormind are announcing the new European Headquarters in the final stages before the release of their decentralised operating system (DeOS) on October 10th.
DeOS is powered by a modified blockchain which can safely store data and creates a sustained, worldwide, public supercomputer accessible a familiar desktop interface, or through a mobile phone. Two years in development DeOS aims to be the first global public record of ownership, identity and trade with strong guarantees on security and privacy. An overview of DeOS is available at http://razormind.co.uk/crowdsale.
"We are thrilled to be in Belfast, there's a lot of talent here and as a local myself, born and bred, I have a particular interest in developing the city. Razormind team is grounded in the principle that blockchain is for everyday use and should be easy and open. Our blockchain lab will give the city access to the business intelligence we've built up across the world." Phil Sturgeon, Director, Razormind
The Team
Razormind is led by Enterprise Architect Jawad Yaqub. Yaqub previously worked with enterprise and finance institutions before branching out into blockchain development. Phil Sturgeon directs UK operations and is also a native of Northern Ireland.
===
About Razormind
Razormind is an enterprise architecture firm which specialises in security and performance. Services including Big Data, Deep Learning, and AI technology are supported end-to-end. For more info: http://razormind.co.uk