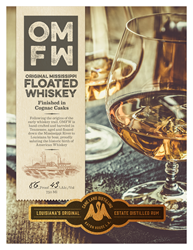 Saluting the historic birth of American whiskey, Cane Land Distilling Company is floating a 5-year premium aged whiskey down the Mississippi to Baton Rouge where it will be finished off in French cognac barrels.
Baton Rouge, Louisiana (PRWEB) August 25, 2016
Aged whiskey will soon be floating down the Mississippi River to Cane Land Distilling Company in Baton Rouge, Louisiana. Cane Land has partnered with a Tennessee distillery to bring a 5-year aged whiskey to market. OMFW (Original Mississippi Floated Whiskey), which has a bourbon mash bill, will be floated down to Cane Land where it will be finished in French cognac barrels. The float down the Mississippi will take place this fall and after resting in cognac barrels for a few months, OMFW will be available to consumers in early 2017.
Founder and President of Cane Land, Walter Tharp, explains, "In addition to the unique character the spirit gains from the rocking motion of the water as its floats down the river, we wanted to pay tribute to the historic path in which spirits were once transported."
"We sought a super-premium, aged whiskey we could put our own touch on by aging it in cognac barrels. We also wanted to give people visiting the Cane Land Distillery a quality option until we are able to convince them that rum is truly the drink of choice," said Tharp.
The new distillery will be one of the only single estate bottled spirits producers in the United States and will be focusing primarily on artisanal rums made from their sugarcane and sugar mill. Cane Land, whose owners also own Alma Plantation & Sugar Mill, is scheduled to wrap up construction and begin distillery operations in October.