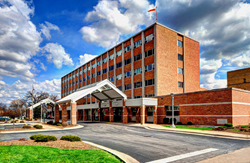 Our vision for Streator is to provide an innovative care model, and this progress is one more step toward our goal of improving residents' overall health and wellness - David Gorenz, MD, OSF HealthCare Regional CEO
Streator, Illinois (PRWEB) August 25, 2016
The new OSF Center for Health – Streator Emergency Center has opened at 111 Spring Street. The emergency center is staffed 24-hours a day, 7-days a week to meet the health needs, including life-threatening emergencies, of Streator residents and surrounding areas.
"OSF HealthCare delivered on its promise to open an emergency center in the Streator community," said David Gorenz, MD, OSF HealthCare Regional CEO. "Our vision for Streator is to provide an innovative care model, and this progress is one more step toward our goal of improving residents' overall health and wellness."
Freestanding emergency centers provide families the comfort of knowing trained doctors and nurses are nearby and ready to handle health crises. Many centers, including the one at OSF Center for Health – Streator, are equipped with imaging tools such as a CT scanner and MRI machine.
OSF HealthCare is in the midst of arranging a robust outpatient campus for the community at the Center for Health - Streator, a model that could be replicated across the State of Illinois or even nationally.
"Only a small percentage of patients who visit freestanding emergency centers end up needing hospitalization," said Dr. Gorenz. "Patients with true emergent conditions now have an efficient access point."
OSF Center for Health – Streator provides access to a network of more than 700 physicians, specialists, and medical services.
Patients needing less intensive treatment – those with sprains, insect bites or minor illnesses – are advised to see their primary care providers or obtain immediate care through an OSF PromptCare facility to avoid fees associated with life-saving emergency room services. The nearest OSF PromptCare is just 20 minutes away at OSF HealthCare - South Ottawa located at 1640 1st Avenue.
OSF Center for Health – Streator, offers emergency services 24 hours a day, seven days a week. Additionally, community members may utilize the center for diagnostic imaging, cardiac care, rehabilitation services, and labs. The center provides access to outpatient services and wellness offerings including an exercise program. More at http://www.osfhealthcare.org/streator.
OSF HealthCare, headquartered in Peoria, is owned and operated by The Sisters of the Third Order of St. Francis, and consists of 18,127 employees in 115 locations, including 11 hospitals throughout Illinois and Michigan. Its physician network employs more 1,073 primary care, specialist physicians, and advanced practice providers. More at http://www.osfhealthcare.org.
Contact: Karen Brodbeck, Vice President Public Relations – OSF HealthCare 815.993.3995