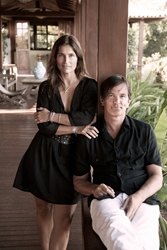 We're so excited to have partnered with Momeni to create rugs full of color, texture, word play, and all of the other things we try to live by.
CARLSTADT, N.J. (PRWEB) August 25, 2016
Momeni announced its new licensing partnership with renowned design team and television personalities The Novogratz to design, manufacture and market a collection of area rugs. Novogratz by Momeni will include approximately 15 rug collections to debut at the line's launch party on September 29th at The Novogratzes' Hollywood castle. The collection's formal launch to the trade will be featured at the Novogratz by Momeni High Point showroom, IHFC G-369, from October 21-26, 2016. Items will be available to consumers in January 2017 through specialty retailers and partners including Nebraska Furniture Mart.
"Momeni is thrilled to partner with Bob and Cortney on this exceptional line of rugs," said Reza Momeni. "We have been continually inspired by their fresh approach to attainable modern design. The designs within this collection are unlike anything on the market today and we cannot wait to reveal the product – it truly speaks to the spirit of The Novogratz and Momeni brands."
"Having an active household with 7 kids and boys constantly wrestling, I've realized that rugs are a must in my home - not just because I love them, but because they truly do serve a purpose: softening and bringing warmth to a space," explained Cortney Novogratz. "As designers, we wanted to have a say about what's in the market. We're so excited to have partnered with Momeni to create rugs full of color, texture, word play, and all of the other things we try to live by. We hope these rugs bring as much joy to people as the process has brought to us." Cortney and her husband Robert have co-written 3 books and starred in the popular People.com digital series "The Castle Next Door: The Novogratz Family Takes Hollywood", as well as the Bravo show, "9 by Design" and HGTV's, "Home by Novogratz".
Robert and Cortney Novogratz are a husband and wife design team who have been referred to as The First Family of Design and are known for bringing high-end and thoughtful design to unique projects.
The Novogratz by Momeni product line will be on display in October 2016 at the High Point Market and will feature product vignettes, giveaways and more.
About Momeni, Inc.
Momeni Rugs is a leading manufacturer and importer of fine area rugs and floor coverings. Since 1975 the Momeni family has brought their thoughtful approach to creating beautiful, quality products for the home. The Carlstadt, NJ design studio and headquarters is home to the Momeni collection of antique, one-of-a-kind and signature lines of area rugs. Momeni products are available at leading retailers. For news and more information from Momeni, connect via Facebook (http://www.facebook.com/momenirugs), Pinterest (http://www.pinterest.com/momenirug) and Instagram (http://www.instagram.com/momeni_rug) and visit momeni.com.
About The Novogratz
For over 25 years, husband and wife design duo Robert and Cortney Novogratz been designing and creating spaces across the globe. The Novogratz's love of design, art, and architecture has driven them to rebuild entire city blocks, renovate a Hollywood castle and create a tree-house in Brazil. Their impeccable taste brings high-end design to the masses. The family currently resides in the hills of West Hollywood, Calif with their seven children (Wolfgang, Bellamy, Tallulah, Breaker, Five, Holleder, and Major). To learn more about The Novogratz visit thenovogratz.com and follow them on Instagram (Instagram.com/thenovogratz), Facebook (facebook.com/Novogratz) and Twitter (twitter.com/thenovogratz).