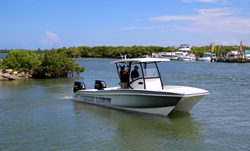 Team Twin Vee has worked night and day to retool, modify and upgrade our New 26 ft Ocean Cat. This New PowerCat has more deck space, storage, bow and stern molded seating, new T-top, new upholstery package and custom helm seating. list goes on and on.
Fort Pierce, Florida (PRWEB) August 26, 2016
Twin Vee was an early innovator in power catamaran engineering by refining the hydrodynamic vortex channeled between the dual hulls to create a smoother, more stable and power-efficient ride. For over 20 years, Twin Vee has built a strong following of boaters who value the unique dual-hull performance, durability and cost-efficiency of Twin Vee Bay Cat and Ocean Cat power catamarans.
Privately owned Twin Vee Catamarans, Inc., was purchased in April 2015 by Joseph Visconti. The company has since been renamed Twin Vee PowerCats, Inc., and trades publicly on the OTCMarkets.com under the symbol (TVPC). Visconti and his new management team immediately embarked on an across-the-board program of capitalization and operational improvements, including plans to update various models of Twin Vee PowerCats.
The Ocean Cat 260, Twin Vee's most popular line, was the first to receive an above-the-waterline update to judiciously improve the boating experience without altering its already superb dual-hull fluid dynamics or significantly impacting affordability.
To simplify the ordering process, Twin Vee Ocean Cats are now divided into two packages: the Sports Edition (SE) for cruising and fishing and Tournament Edition (TE) for tournament level sport fishing enthusiasts.
The Twin Vee Ocean Cat 260 SE
The Ocean Cat 260 SE, with a selling price of $91,250 including twin Suzuki 140hp engines*, is the most fully outfitted entry-level boat in Twin Vee history. The redesign includes integrated molded fiberglass bow and stern seating with built-in storage compartments and cushion sets. The fishing station has also been completely redesigned to feature a 50-gallon live bait well with aquarium window; built-in quick access tool storage and tackle drawers; and a prep area with inset cutting board and freshwater washdown. The helm now sports a Ritchie Voyager compass and built-in weatherproof two-speaker audio system; an updated switch panel with USB and 6-volt charging ports; and the console, with side door, is nestled under an anodized high-grade aluminum T-top with contoured hardtop and matching color T-bag.
Stainless steel is used for consistent quality on drink holders, rub rail, and gas fills. The anchor roller, heavy-duty stern eyes and 8-inch through-bolted cleats are all made of tough 316-grade stainless steel. More standard improvements include a dive ladder, under-gunnel rod holders and pre-installed rigging tubes for extra batteries and electronics.
The Twin Vee Ocean Cat 260 TE
The Ocean Cat 260 TE, with a selling price of $123,750 including twin Suzuki 140hp engines*, takes both style and functionality to the next level. This package adds a deluxe dive ladder; high-grade anodized aluminum bow rails; and a bow anchor locker with drain and Lewmar 700 helm-controlled anchor windlass. The high-grade anodized aluminum T-top is upgraded with a hand-polished hardtop featuring recessed lighting and audio speakers, and a large overhead electronics/dry storage box. The helm is decked out with mounts for two 12-inch screens; a 316-grade stainless steel steering wheel connected to a Sea Star twin ram hydraulic steering system; and two deluxe adjustable helm chairs with flip-up bolsters and footrest.
For aesthetic preference, you have a choice of color-themed hull wraps. The TE also comes with an LED lighting package that includes dome cockpit lighting, spreader lights, surround indirect under-gunnel interior lighting and stern underwater lighting. Fishing equipment is upgraded with dual 1100 GPH bait well pumps, extra rod holders and 15-foot Taco Grand Slam 280 outriggers. Of course, this serious fishing package requires more energy, provided by a three-bank battery charging system with an additional 27-deep cycle battery.
Visit http://www.twinvee.com to learn more about the many advantages to twin-hulled power boating and see the full line of Twin Vee Ocean Cat and Bay Cat power catamarans, as well as our new 260 special edition PowerCat, the Twin Vee Exuma CJ.
We configured the special edition Exuma CJ as a Bahamas style cruiser and light tackle fisherman by replacing the T-top with a large, shady Bimini top, eliminating the live bait well for more aft deck space and adding a high-grade anodized aluminum guardrail around the padded bow lounge. The Exuma CJ's Twin Vee 260 hull is equally at home over shallow banks or open sea. If you're looking for the most flexible and family friendly 26-foot island-hopper available, the Exuma CJ fits the bill — a bill that is actually quite a bit lower than you might expect, starting at $79,750.00 including twin Suzuki 140hp engines*.
Also on http://www.twinvee.com, you can download the full specifications for all Twin Vee Ocean Cats and Bay Cats, use our "Build A Boat" web application to build the perfect Twin Vee for your budget, or find the nearest Twin Vee dealer.
Located in Fort Pierce, Florida, USA, we are an American company, with American craftsmen dedicated to building The American Dreamboat. Come join the Twin Vee PowerCats family.
*Additional engine options available
This press release contains statements, which may constitute "forward-looking statements" within the meaning of the Securities Act of 1933 and the Securities Exchange Act of 1934, as amended, by the Private Securities Litigation Reform Act of 1995. Those statements include statements regarding the intent, belief or current expectations of Twin Vee PowerCats, Inc. and members of its management, as well as the assumptions on which such statements are based. Prospective investors are cautioned that any such forward-looking statements are not guarantees of future performance and involve risks and uncertainties, and that actual results may differ materially from those contemplated by such forward-looking statements. The Company undertakes no obligation to update or revise forward-looking statements to reflect changed assumptions, the occurrence of unanticipated events or changes to future operating results.