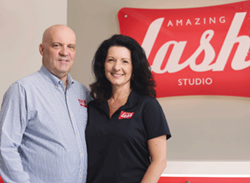 Jersey girl style is second to none. This area has very sophisticated consumers who know what they are talking about. - Lisa Patton
new jersey (PRWEB) August 25, 2016
Everyone loves a Jersey girl.
Lisa Patton and Reed Patton particularly love their eyes — and their willingness to spend to style them.
"Jersey girl style is second to none," Lisa Patton said. "This area has very sophisticated consumers who know what they are talking about."
The Pattons hope those consumers' conversations will soon include Amazing Lash Studio, a beauty salon concept at which one can customize the shape and style of her lash line via eyelash extensions.
On the verge of opening studios in Wyckoff, Rockaway, Florham Park, Wayne and Westfield, the Pattons — regional franchise developers for New Jersey and New York — also plan to open locations over the next four months in Montvale, Paramus, Clifton, Edgewater, Short Hills, Piscataway, Warren, Cherry Hill, Lawrenceville, Sea Girt, Montclair and East Brunswick.
"The New Jersey and New York areas are the epitomes of fashion, design and style." Lisa Patton said. "We hopped on (those territories) without thinking twice."
Headquartered in Scottsdale, Arizona, Amazing Lash Studio was co-founded in 2010 by Edward Le, CEO and president, and Jessica Le, managing member, chief development officer and vice president.
The Les have since grown their first-to-market concept — synthetic lash extensions that lengthen and thicken one's own natural lashes — from one store to over 200 franchises and 600 regional developer licenses.
"New Jersey is so diversified," Edward Le said. "Women here are so different than women anywhere else!"
It takes a particular woman to commit to an initial process that can take up to two hours for $79.99, but Amazing Lash Studio's membership model allows customers to get refills every month for $59.99.
"When you talk about lashes with women, you find that they are thrilled to tell you about them," Lisa Patton said. "Why would a mom with three kids want them? Why would an older woman who goes to the gym? The answer is convenience, lifestyle and beauty."
Customers can choose from a selection of waterproof, colored, single strand eyelash extensions to be individually applied by one of the 15 to 20 employees per location. Amazing Lash Studio uses only pharmaceutical grade adhesive that never comes in contact with one's eyelid.
"We are well trained," Le said. "There will always be competition, but we bring something much different to New Jersey."
So do the Pattons. Having owned and operated Twin Ponds ice skating and sports complexes in Harrisburg and Mechanicsburg, Pennsylvania, for over two decades, the Pattons went looking for additional business opportunities in the beauty industry.
"The sports complex business is very seasonal," Reed Patton said. "Health and beauty are so important to people and it's an opportunity to be in business for ourselves in a current, cutting-edge industry."
Per relatives' experience working with brands such as Massage Envy and European Wax Center, the Pattons were researching opening franchises in North Carolina or Florida when they stumbled upon Amazing Lash Studio.
"There was major opportunity in New Jersey and New York for the Amazing Lash Studio brand, so we decided to take the plunge," Reed Patton said.
Though they reside in Harrisburg, Pennsylvania, the Pattons have been traveling to New Jersey several times a week in order to oversee each store opening.
They've even made it a family affair. Lisa Patton's son, Sam Vranicar, a former Marine, and his wife, Dana Vranicar, relocated to New Jersey from San Diego in order to work with the Pattons to develop the territory.
Their anticipated success will not be without challenges.
Studio locations, for example, can range from 1,400 to 2,500 square feet, which can be costly to find in the New Jersey market. Total initial investments can range from $300,000 to $600,000, depending on the size and lease agreements.
Le knows the market is there, however, to handle such costs.
"Our core business is 99 percent women, but we do have some men wishing to enhance their eyes," Le said. "When we move into eyebrow extensions, there will be bigger business for both genders."
The Pattons also are pleased with the support they have received from the Amazing Lash Studio brand.
"One of the compelling reasons for getting involved with a successful franchise is that there is a playbook for this," Reed Patton said, "It's a business in a box. The beauty of franchising is that other people have done this all over the country and developers are always sharing best practices."
With nearly 30 regional developer licenses in New Jersey and 35 in New York, the Pattons are excited to bring Amazing Lash Studio's concepts to New Jersey residents.
"Every single demographic and income is represented here in New Jersey," Lisa Patton said.