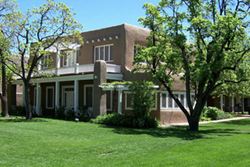 We have designed the forum so that the conversations will be of interest to Santa Fe's art organizations and the general public. — Eumie Imm Stroukoff, Emily Fisher Landau Director of the Research Center
Santa Fe, New Mexico (PRWEB) August 25, 2016
The Georgia O'Keeffe Museum's Research Center is pleased to announce: More than an Icon: Balancing Authenticity, Idealism, and Expectations at Single-Focus Institutions from September 14–16, 2016, in Santa Fe, New Mexico. What does it mean for an institution to represent an individual? How are difficult topics managed and explored with the public? How do human experiences and "pilgrimage behaviors" affect interpretation? These are the topics to be explored in this two-day forum.
The Research Center celebrates its 15th year by bringing together leading thinkers from the world of single-focus institutions to discuss a wide range of topics pertaining to single-artist institutions.
A reception and keynote address, by noted museum consultant and writer Elaine Heumann Gurian, will launch the 2016 Forum on Wednesday night, September 14, at the Research Center. The reception begins at 5:00 p.m. in the Research Center's outdoor garden; tickets are $25 for non-members and $15 for Museum members. A keynote address by Gurian follows the reception from 6:30 to 7:30 p.m. in the Research Center Library.
"We are delighted to assemble such an esteemed group of scholars and museum professionals at this year's forum," said Eumie Imm Stroukoff, Emily Fisher Landau Director of the Research Center. "We have designed the forum so that the conversations will be of interest to Santa Fe's art organizations and the general public."
Forum speakers on Thursday, September 15, and Friday, September 16, will include representatives from The Andy Warhol Museum, Robert Rauschenberg Foundation, Historic Artists' Homes and Studios and Presidential Centers, as well as museum professional staff, independent scholars, and artists.
Interested individuals can register for the 2016 Forum online at https://www.okeeffemuseum.org/forum/ Reservations must be made by Wednesday, September 7, for both the pre-conference tour and forum sessions.
To register: https://connect.okeeffemuseum.org/forum
For a timeline of the Forum: https://www.okeeffemuseum.org/forum/
For information about the speakers:
https://www.okeeffemuseum.org/forum/#tab_list-of-speakers
For additional information about the Forum, or to register for a single day of the Forum, please call 505.946.1002.
For media inquiries, please contact:
Audrey Nadia Rubinstein
JLH Media
505.490.5029
Audrey(at)jlhmedia(dot)com
###
ABOUT THE GEORGIA O'KEEFFE MUSEUM:
To inspire all current and future generations, the Georgia O'Keeffe Museum preserves, presents and advances the artistic legacy of Georgia O'Keeffe and modernism through innovative public engagement, education, and research. Opened in Santa Fe, New Mexico in 1997, the Museum counts O'Keeffe's two New Mexico homes as part of its extended collection. The Museum's collections, exhibitions, research center, publications and educational programs contribute to scholarly discourse and serve a diverse audience. For more information please visit okeeffemuseum.org.