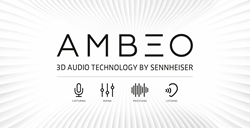 With AMBEO, the listener is able to dive into a completely immersive, spatial world of sound. We are excited to share this extraordinary experience at IFA.
Berlin, Germany (PRWEB) August 25, 2016
At this year's IFA, held from September 2 to 7, visitors can immerse themselves in the future of audio technology with Sennheiser: In Berlin, the audio specialist is presenting various audio solutions of its AMBEO 3D audio technology program – including a new virtual reality microphone that allows professional 3D audio recordings for VR productions. Other highlights at the Sennheiser booth (hall 1.2, booth 202) include the new PXC 550 Wireless travel headphones and the Sennheiser HE 1, the best headphones in the world.
Audio specialist Sennheiser is driven by the vision to shape the future of audio: "We want to give people the opportunity to experience sound in a completely new way", says Uwe Cremering, Director Global Marketing Communications at Sennheiser. "Today, customers are seeing a constant development of new formats and ways to produce music and at the same time the opportunity to consume audio in new ways. These are the very technologies that we have been researching for many years."
With its 3D audio technology, AMBEO, Sennheiser is letting visitors to IFA experience a new dimension of sound. "With AMBEO, the listener is able to dive into a completely immersive, spatial world of sound", explains Uwe Cremering. "We are excited to share this extraordinary experience at IFA."
A live experience of the future of audio
Sennheiser's virtual reality microphone is the first of a series of AMBEO products that will be launched in the coming years. The innovative 3D microphone will be an important tool for VR productions and has been designed in cooperation with VR content producers and fine-tuned in an extensive creators' program with participants from across the VR audio/video industry – and from across the globe. The microphone uses four capsules in a tetrahedral arrangement; its signals are converted to B-format files for digital audio workstations by the supplied encoding software. The A-B encoder will be available as VST, AU and AAX plug-ins as well as a stand-alone version for Mac or Windows.
In addition to the AMBEO VR Mic, visitors to IFA 2016 are able to experience another dimension of AMBEO: In Sennheiser's Sound Experience Room, they will be able to listen to both original 9.1 recordings and remixes of legacy music in the 9.1 format. The Sennheiser algorithm generates a 9.1 upmix so that original stereo recordings can be listened to in stunning 3D audio quality.
With its Venue Modeling Audio Plugin, Sennheiser is presenting another highlight in the field of 3D audio. The demo version features the room characteristics of clubs such as San Francisco's Mighty or the Rex Club in Paris, making it possible for music producers and DJs to experience their tracks as if they were actually in these venues. DJs, artists and producers of electronic music can therefore experience their tracks as if in the exact location that they are to perform at, or can mix their tracks in the studio according to the sound characteristics of the selected venue.
Experience the world's best headphones
In the Sound Experience Room, Sennheiser will also be offering the rare opportunity to experience the electrostatic headphone system Sennheiser HE 1. The best headphones in the world, this reference model combines a unique amplifier concept with carefully selected materials and the highest craftsmanship. With a frequency response that extends beyond the range of human hearing and the lowest total harmonic distortion that has ever been measured in an audio reproduction system, it is a milestone product in Sennheiser history.
The journey to a mobile future of audio
At IFA, Sennheiser will also showcase its new premium headphones for excellent sound when traveling. The ultimate travel companion, the elegant and compact Sennheiser PXC 550 Wireless provides high-quality sound and up to 30 hours of battery life. Even with the NoiseGardTM hybrid adaptive noise cancellation engaged, the PXC 550 Wireless can span the world on a single charge. The new headphones deliver a brilliant listening experience on the move – letting users travel in supreme wireless comfort and free from distractions.
Visit Sennheiser at IFA 2016 in hall 1.2 at booth 202 to experience AMBEO, the Sennheiser HE 1, the PXC 550 Wireless and other new product highlights.
About Sennheiser
Audio specialist Sennheiser is one of the world's leading manufacturers of headphones, microphones and wireless transmission systems. Based in Wedemark near Hanover, Germany, Sennheiser operates its own production facilities in Germany, Ireland and the USA and is active in more than 50 countries. With 19 sales subsidiaries and long-established trading partners, the company supplies innovative products and cutting-edge audio solutions that are optimally tailored to its customers' needs. Sennheiser is a family owned company that was founded in 1945 and which today has 2,750 employees around the world that share a passion for audio technology. Since 2013, Sennheiser has been managed by Daniel Sennheiser and Dr. Andreas Sennheiser, the third generation of the family to run the company. In 2015, the Sennheiser Group had sales totaling €682 million. http://www.sennheiser.com