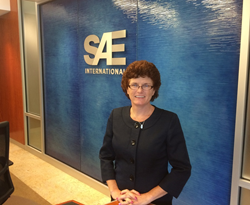 She is a global, strategic business partner who will add value to SAE International; we are pleased and excited to welcome her to our team. - David L. Schutt, PhD, Chief Executive Officer of SAE International
WARRENDALE, Pa. (PRWEB) August 25, 2016
SAE International announces the hiring of Melinda Rombold as its new Chief Human Resources Officer.
In her role, Rombold will add value to SAE International by creating HR initiatives that support and drive its mission and business objectives. In addition, she will serve on the organization's Executive Management Council.
"Melinda is a seasoned executive with more than 30 years of experience managing and leading Human Resources," David L. Schutt, PhD, Chief Executive Officer of SAE International, said. "She is a global, strategic business partner who will add value to SAE International; we are pleased and excited to welcome her to our team."
Experienced with the best practices in talent management, employee engagement and talent acquisition, Rombold also brings a strong business acumen from multiple industries including fast-paced consumer packaged goods, global engineering/manufacturing, high-growth manufacturing, high-tech start-ups and retail.
Over her progressive career, she has worked for many large, global and complex organizations including: the PTC Group, a global steel tube manufacturer; Ansoldo STS, a worldwide transportation systems engineering organization; Redzone Robotics, a high-tech start-up company providing robotic services; Delmonte Foods, a consumer packaged goods company in branded and private labeled food and pet products; and Tuscarora Inc., a manufacturer of packaging and protective products.
Rombold earned a master's degree in Human Resources Management from St. Francis University in Loretto, Pa.; and a bachelor's degree in Business Administration from Robert Morris College in Moon Township, Pa.
SAE International is a global association committed to being the ultimate knowledge source for the engineering profession. By uniting over 127,000 engineers and technical experts, we drive knowledge and expertise across a broad spectrum of industries. We act on two priorities: encouraging a lifetime of learning for mobility engineering professionals and setting the standards for industry engineering. We strive for a better world through the work of our philanthropic SAE Foundation, including programs like A World in Motion® and the Collegiate Design Series™.