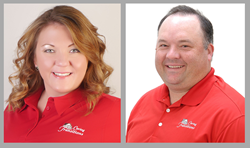 Caring Transitions helps seniors and families, allows us to work together as a family and provides us the opportunity to give back to our community. - Rosie Harris
Cincinnati, OH (PRWEB) August 25, 2016
Moving is always a challenge, but when someone is trying to help a senior get resettled in a new place or liquidate an estate, it can be a stressful and emotional situation. Luckily now no one has to do it alone. Rosie Harris and Brad Ryan have just opened a business that can help – Caring Transitions Cincinnati West.
Caring Transitions is America's largest resource for managing senior relocations as well as downsizing and estate liquidations. In addition to organizing, packing, de-cluttering, moving and resettling, Caring Transitions can handle estate sales, liquidations, and preparing homes for market. Caring Transitions Cincinnati West serves Bridgetown, Delhi, Green Township, Hamilton, Harrison, Hidden Valley, Lawrenceburg and the surrounding communities.
Although Rosie and Brad are running the day-to-day operations of the business, Caring Transitions Cincinnati West is truly a family company – Rosie's parents Lisa and Tim McKinney purchased the franchise and Brad is married to Rosie's sister Katie.
"We have considered getting into a family business for quite a while, but we took our time to find the right opportunity. Caring Transitions helps seniors and families, allows us to work together as a family and provides us the opportunity to give back to our community," Rosie said. "We're very excited about launching Caring Transitions Cincinnati West and look forward to serving the needs of seniors and their families."
Prior to opening the business, Rosie spent more than a decade in customer service and merchandising. Brad also has a background in customer service from his time working in his family's business. Rosie will lead the company's sales and marketing efforts while Brad will handle operations.
"As a family, we believe in helping people. We are passionate about the importance of family and relationships and we are dedicated to providing our clients with a positive, solution-driven experience. With us it's personal, that is what sets Caring Transitions Cincinnati West apart," Rosie said.
Whether your situation is planned or unexpected, Caring Transitions' services are perfect for seniors moving in with family or into a safer living situation as well as busy families and people clearing out the home of a loved one who has passed. All of Caring Transitions' services are customizable, so clients only pay for the services they need – whether that means managing the entire move and estate-clearing or just getting someone resettled into their new place.
"Caring Transitions is here to take the stress out of your situation and free up your time to be able to focus on the things that matter, like spending that time with your loved ones. We'll take care of the rest and provide a smooth, seamless transition," Rosie said.
Rosie and Brad are both Certified Relocation and Transition Specialists, a designation bestowed by an independent organization that evaluates providers of senior relocation services. Caring Transitions Cincinnati West is bonded and insured and all employees are background-checked.
For additional information about Caring Transitions, call (513)619-7906, email RHarris(at)CaringTransitions.com or visit http://www.CaringTransitionsCincyWest.com.
About Caring Transitions
Caring Transitions, founded in 2006, is the first national franchising concept specializing in senior relocation and transition services. With nearly 200 locations throughout the United States all owned and operated by Certified Relocation and Transition Specialists, Caring Transitions provides clients with supportive moves, auctions, rightsizing and transitions. This includes expert advice plus a well-executed transition plan beginning with the initial sorting of personal belongings through packing, shipping and selling of items to the final clearing and cleaning of the property. For more information, visit http://www.caringtransitions.com or visit us on Facebook.