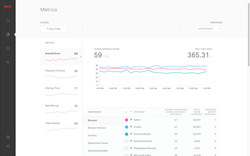 Digital video is exploding and Mux is perfectly positioned to capitalize as video consumption continues to shift online.
San Francisco, CA (PRWEB) August 31, 2016
Mux, Inc., a performance analytics provider for video developers and media publishers, has secured $2.8 million in seed funding. The funds will further Mux's mission to use data to improve on-demand and live video performance.
"Publishing online video at scale is still a challenge, and only a few companies like Netflix and YouTube have the analytics they need to do it well," said Jon Dahl, founder and CEO of Mux. "Our goal is to make online video better by giving companies insight into what viewers actually see, so they can improve viewer experience and optimize over time."
Investors include SV Angel, Lowercase Capital, Susa Ventures, Liquid 2 Ventures, Advancit Capital, Pathbreaker Ventures, Y Combinator, and prominent founders including Parse's Ilya Sukhar and Heroku's James Lindenbaum.
"We're proud to be a part of Mux's first funding round and believe in the vision of bringing television online," says Joe Montana, General Partner at Liquid 2 Ventures. "Not only are people watching more online video than ever before, they also expect a TV-like experience. Mux will help make that a reality."
MAKING ONLINE VIDEO BETTER
Delivering video on the internet is complex, and many things can go wrong between publisher and viewer. When viewers run into problems - like errors, rebuffering, low quality, slow load times, or a frustrating ad experience - they go somewhere else. But most online video publishers aren't able to measure these things, so they're blind to the actual experience of their end-users.
Mux solves this by monitoring streaming performance and visualizing this data through powerful dashboards and alerts. Customers can quickly identify problems when they arise and optimize their platforms over time. The result is that publishers can give their users a better viewing experience, which results in higher revenue and engagement.
THE BEST TEAM IN PLACE
This is the second video startup for the team behind Mux. In 2010, they created Zencoder, which became the leader in cloud video encoding before selling to Brightcove in 2012. The Mux team today includes engineers from YouTube, Facebook, and Twitch.
While at Zencoder, the founders of Mux also created Video.js, the most widely used open-source video player online. Video.js helped pioneer the move from Flash video to HTML5 video, and today it is used by Instagram, Twitter, Microsoft, and over 100,000 other sites.
The Mux founders are also the organizers of Demuxed, a conference for video engineers held in San Francisco in October, and have helped plant video technology meetups in cities around the world. To help with developer go-to market strategy, Mux has joined Heavybit's program and community.
"Digital video is exploding and Mux is perfectly positioned to capitalize as video consumption continues to shift online," says Matt Mazzeo of Lowercase Capital. "We had the privilege of backing the Mux team six years ago, when they built a visionary company in online video, and we are excited to do it again."
ABOUT MUX
Mux offers real-time performance monitoring and analytics for video streaming, helping publishers deliver better quality of experience to their viewers. The Mux team is comprised of video veterans, having created the biggest open-source video player on the web, the largest transcoding service in the cloud, and an active community for engineers working on video technology. For more information visit mux.com.