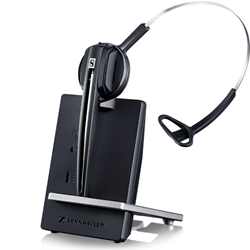 The D 10 Series offers extraordinary sound for office and unified communications environments, delivering simple, plug and play connectivity with either a desk phone or PC-based softphone.
Old Lyme, Conn. (PRWEB) August 25, 2016
Sennheiser, a leading provider of premium headsets and speakerphone solutions, announced that its D 10 wireless DECT headset series has been awarded a 2016 Communications Solutions Product of the Year Award from Technology Marketing Corporation (TMC). The D 10 Series offers extraordinary sound for office and unified communications environments, delivering simple, plug and play connectivity with either a desk phone or PC-based softphone.
TMC is one of the most highly regarded news media organizations in the telecommunications space, with a readership of as many as a million visitors per month. The company is the publisher of both Customer and Internet Telephony magazines. Its Communications Solutions Product of the Year Award acknowledges outstanding achievement on the part of providers of technology products for telecommunications, VoIP, video, and contact center applications. The D 10 Series was entered on the basis of its exemplary sound quality and voice intelligibility, in addition to its versatility in accommodating a single point of connectivity for either desktop- or softphone-based systems, making it an ideal headset for a full range of business environments.
This award comes on the heels of Sennheiser earning a coveted Golden Bridge Award for its enhanced PRESENCE™ series of unified communications headsets, which was announced in late July.
"We're thrilled to see this kind of recognition for our product line," said Bill Whearty, vice president, sales and marketing, CC&O, Americas, Sennheiser Electronic Corp. "It validates what we've been contending in the market all along, that superior audio quality is not a luxury in an office setting, it is a vital component of any successful and productive working environment. Premium audio can elevate the performance of a sophisticated telecommunications network, allowing companies to enhance their communications and offer a more effective engagement experience for employees, business partners, and customers."
About Sennheiser:
Audio specialist Sennheiser is one of the world's leading manufacturers of headphones, microphones and wireless transmission systems. Based in Wedemark near Hanover, Germany, Sennheiser operates its own production facilities in Germany, Ireland and the USA and is active in more than 50 countries. With 19 sales subsidiaries and long-established trading partners, the company supplies innovative products and cutting-edge audio solutions that are optimally tailored to its customers' needs. Sennheiser is a family owned company that was founded in 1945 and which today has 2,750 employees around the world that share a passion for audio technology. Since 2013, Sennheiser has been managed by Daniel Sennheiser and Dr. Andreas Sennheiser, the third generation of the family to run the company. As part of the Sennheiser Group, the joint venture Sennheiser Communications A/S is specialized in wireless and wired headsets and speakerphones for contact centers, offices and Unified Communications environments as well as headsets for gaming and mobile devices. In 2015, the Sennheiser Group had sales totaling €682 million. http://www.sennheiser.com
About TMC
TMC is a global, integrated media company that supports clients' goals by building communities in print, online, and face to face. TMC publishes multiple magazines including Cloud Computing, IoT Evolution, Customer, and Internet Telephony. TMCnet is the leading source of news and articles for the communications and technology industries, and is read by as many as one million unique visitors monthly. TMC produces a variety of trade events, including ITEXPO, the world's leading business technology event, as well as industry events: Asterisk World; AstriCon; ChannelVision (CVx) Expo; DevCon5 - HTML5 & Mobile App Developer Conference; IoT Evolution Conference & Expo; IoT Evolution Developers Conference; MSP Expo; Real Time Web Communications and more.
For more information about TMC, visit http://www.tmcnet.com.
For more information on Sennheiser's professional headset solutions, please visit http://www.sennheiser.com/cco.