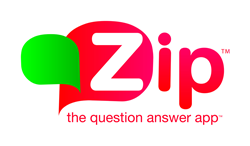 San Diego, CA (PRWEB) August 25, 2016
Zip, the social platform that made national news last week, has released more information regarding public opinion on Trump and Hillary. After stating a strong showing for Trump among users prior to last week, the social media app began analyzing its anonymous data to garner further results on the status of the national political campaign.
After this week's explosion of downloads and engagements, Ric Militi, Co-Founder and CEO of San Diego-based Crazy Raccoons, maker of Zip – The Question Answer App, instructed his data team to analyze the responses and identify an aggregate group of Liberal and Democrat users through a series of anonymous questions regarding their position on the upcoming election.
From a sample size of 5,885 unique Zip users in the United States over the age of 18 identified as Liberal based on their anonymous responses on Zip, 35% chose Trump when asked who they would vote for. As for Democrats, out of a sample size of 2,342 unique Zip users in the United States over the age of 18, the data showed that 30% would choose Trump. In this study, unique users are users who have answered the same way consistently over a series of questions with the same subject matter, stating their unwavering opinion.
"We spent one week going through all our data and are 99% confident that our assumptions based on the data are correct. The data has been filtered and cleaned to only use high-quality responses," says Sean P. Jaeger, Co-Founder and Director of Architecture and Technology of Zip – The Question Answer App.
Non-quality answers have been removed from these results and Militi noted it is technologically impossible for a user to vote more than once on any one question. Liberals and Conservatives on the Zip team were asked to review this data and agree on the information from both sides of the aisle, so the results would not be subject to any unintentional bias. The final sign off had to come from a member of the organization representing both perspectives for Militi to accept these results.
"It is not our intent to become a political barometer in any way," Militi said. "We are a social platform for all users to give their opinion on 25 different categories. It's understandable that Trump followers, like all users that are drawn to Zip regardless of their age, gender, social views, interests and more, feel comfortable using our social platform because of its anonymous nature. Zip was designed to prevent bullying, intimidation, profanity or egregious comments, and that's why relationships and dating is actually our most popular category alongside politics because people have very personal views in both arenas. We're hoping now that users across the country from all viewpoints will continue to join in and voice their opinions equally," he said.
In addition to providing data, Zip – The Question Answer App intends to be a source of content for all media outlets in all categories throughout life and plans to begin sending out their top 10 questions among top 10 categories on a weekly basis.
About Zip – The Question Answer App
Zip – The Question Answer App, created by San Diego-based technology think tank Crazy Raccoons, LLC, is a unique and fun social app that instantly settles friendly squabbles, arguments, debates and opinion-based questions by gathering responses from fellow users quickly and anonymously. Zip is revolutionizing the communications industry with its proprietary app, which allows for interactive, two-way communication between brands and public figures and their audience while also providing insightful analytics. Earlier this year they set a course for expansion by bringing former Fox executives Sandy Grushow, Jon Hookstratten, and Ira Kurgan to the Zip Advisory Board. More information at http://thezipapp.com/.