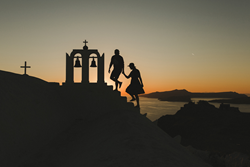 (PRWEB) August 29, 2016
Junebug Weddings announced its third annual Best of the Best Destination Photo Collection on Monday, August 29, 2016, revealing the top 50 destination photos from the past year. World-renowned wedding photographers Komang Diktat of Diktat Photography, Ekaterina Mukhina of Purlita Photography, and Jim Pollard of Jim Pollard We Are assisted the Junebug Weddings team in judging this contest.
For the last seven years, Junebug Weddings has been hosting photography contests. This year, its annual Best of the Best Destination Photography Contest brought in thousands of image submissions from photographers in over 30 different countries. The top 50 images comprise the collection.
"The amount of stunning work that was submitted this year made it difficult to narrow the collection down to just 50 images! However, we couldn't be any happier with the final set of photos. We would like to thank everyone who submitted, along with our star judges, for helping to make this year's Destination Photo Contest one of our best yet," said Carrie Crooks, General Manager and Editor-in-Chief of Junebug Weddings.
Winning a Junebug Wedding Best of the Best Photography Contest is one of the highest honors a wedding photographer can receive. Acclaimed wedding photographers Fer Juaristi, Chrisman Studios, and Jose Villa have all had winning images in Best of the Best contests. The next contest that Junebug Weddings will host is its annual Wedding Photography contest, which opens this winter.
About Junebug Weddings: Junebug Weddings is an international wedding website that inspires artistic couples around the world while connecting them with the best vendors in their region. As a leader in the wedding industry, Junebug curates these image collections to celebrate the artistry of wedding photography. In addition to its Best of the Best Destination Photo Contest, Junebug hosts their Best of the Best Wedding Photography Contest every winter, as well as their Best of the Best Engagement Photography Contest in the spring. You can view Junebug's past contest winners by visiting the 2015 Best of the Best Destination Collection, the 2015 Best of the Best Wedding Photography Collection, and the 2016 Best of the Best Engagement Collection. To learn more about becoming a Junebug Weddings member, please visit our contact page for information regarding our application process.