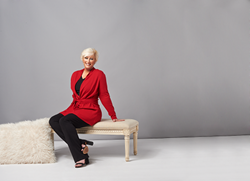 Beauty is not an age and certainly not a size.
New York, NY (PRWEB) August 26, 2016
Kim Gravel is returning to QVC on Thursday September 22 with the second appearance of her new collection Belle by Kim Gravel. Belle by Kim Gravel is the culmination of Gravel's 20 years working in fashion, design and women's empowerment. The mission driving this new brand is the marriage of Kim's passion for fashion and women's issues, a desire for every woman to Believe In Your Own Beauty.
"I'm thrilled to be bringing the Belle by Kim Gravel collection to QVC. I have put so much of myself into every piece and couldn't be happier to partner with such a respected retail giant like QVC. I know I've found the right home and love sharing it with everyone," said Gravel.
With the new 5-pocket Flexibelle women's jean and revolutionary cuts like Curvallusion, Belle by Kim Gravel transforms frustrating fit areas into accentuated positives allowing a real woman to love her body at any size, while bringing a little glam into the everyday.
"I want the clothes to make women feel like they are tailored just for them, with style, comfort, and a little bit of the wow factor," said Gravel. "My goal is to help women see their bodies differently, and these clothes do that. No matter who you are or what size you are, when you put on Belle by Kim Gravel, you see and believe in your own beauty."
Geared for the modern woman, the Belle by Kim Gravel Fall 2016 Collection is a total closet makeover. Offering a head-to-toe mix of bright colored blouses, stylish structured jackets, amped up active wear, and the must-have Flexibelle 5-Pocket Jean, Kim Gravel understands that beauty is a package - not a size.
Belle by Kim Gravel will have its 2nd QVC show on Thursday September 22, 2016 at 11am ET. More information can be found at KimGravel.com and on social media:
Instagam: @KimGravel
Facebook: @KimGravelOfficial
Twitter: @KimGravel
About Kim Gravel:
Kim Gravel is a television personality, entrepreneur, confidence coach and beauty expert, but most of all she has a passion for women and seeing them rise. Gravel starred in the Lifetime docu-series Kim of Queens, is a recurring contributor on The Steve Harvey Show and Headline News Network, and is featured on the SiriusXM Radio show Dirty Pop with Lance Bass in the weekly advice column Gravel Mail. At the age of 19, Kim became one of the youngest Miss Georgias in the state pageant's history, went on to represent her home state in the renowned Miss America pageant and as a result was asked to represent the USA as Goodwill Ambassador to Japan. Kim has worked for cosmetic giants Revlon and Christian Dior, served as National Cosmetology Association spokesperson, and logged thousands of hours as make-up artist and stylist to over 100 fashion shows and photo shoots. Kim has been designing clothing for 20+ years, and created her first boutique cosmetic line in 2009, bringing her fresh and confident approach to women across the country. http://www.KimGravel.com